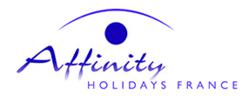 (PRWEB UK) 4 January 2013
Since 1987, Marion and Godfrey Edwards have been renting high quality luxury villas in the South of France. Affinity Villas France was set up to offer tourists not only luxury villas for their stay but to also offer a level of service which is unrivaled by competitors. Over 25 years of experience allows Marion and Godfrey to offer a carefully chosen and selected range of the highest quality villas in Provence whilst ensuring that a team of professionals are always on hand to assist with any special requests or requirements and simply making sure each and every stay goes smoothly and that there's someone on hand to answer any questions which may arise during the stay.
With this in mind, Affinity Villas France have started 2013 by re-branding themselves as 'Affinity Holidays France' to encompass an ever expanding range of properties available alongside launching a brand new website to perfectly showcase their range of available villas in the region.
Whether looking for a villa suitable for a small family or one suitable for a much larger group, Affinity Holidays France's brand new website makes it easy to view available properties at a glance, as well as being able to easily and effectively see a property overview, an in-depth fact sheet, the location, the guest book and the price and availability of each chosen villa. Affinity Holidays France takes the difficulty out of comparing suitable villas for a stay in the South of France and ensures that prospective guests can easily view all information at the click of a button.
With a range of images included for each and every villa available, as well as the function to quickly and easily share properties through social media platforms, planning a villa holiday in the South of France alongside friends and family members has never been easier. In addition to this, all villa information is also available in a printable format for those who would rather sit round the table to compare potential properties.
Marion Edwards of Affinity Holidays France stated, "The idea behind developing the new website was to make it easier for those looking for villas to rent in the Provence region of the South of France to find exactly what they are looking for. We strongly believe that the new website enables visitors to quickly and easily find out all the information required when in the planning stages of a holiday in the area. We are regularly adding properties to the site and look forward to seeing new faces this year at the villas."
For the highest quality villas available to rent in Provence in the South of France, do not hesitate to pay a visit to Affinity Holidays France. Whatever the requirements in terms of number of bedrooms and the number of people the villa sleeps, there is a suitable villa and, added to this, is the exquisite level of customer service offered to all holidaymakers.