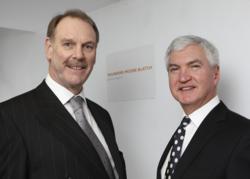 This merger is part of our long term strategy for growth.
(PRWEB UK) 7 January 2013
Moore Blatch, one of the south's leading law firms, is already on the expansion trail in 2013 as it continues on a strategy of long term growth.
The firm, which has offices in Southampton, Lymington, Whiteley and Richmond, has expanded its London operation following a merger with Saunders & Company, a property specialist in Richmond.
Managing partner at Moore Blatch, David Thompson, said the merger was a key milestone in ongoing expansion plans of Moore Blatch.
"We have been in Richmond for six years and this merger is part of our long term strategy for growth, particularly in property services and to link our offices along the south coast with London,'' he said.
"We have been looking to increase our presence in Richmond as we grow to become one of the leading firms in South West London and Saunders & Company is a perfect fit,'' he said. "Both firms pride themselves on offering a bespoke legal service to discerning clients.''
The expansion comes as Moore Blatch continues to be recognised for its top quality legal service. The Lawyer ranks Moore Blatch at 109 in its review of the country's top 200 law firms, a rise of eight places from the previous year, which Mr Thompson says places the firm as one of the strongest performing firms in Southampton and central southern England.
The ranking reflects continuing growth at Moore Blatch, with the firm seeing a rise in turnover in the last four years, with litigation and personal injury the firm's largest areas of business.
As part of the expanded firm, property transactions will be handled by Saunders Moore Blatch from its current office in Friars Lane, with Moore Blatch in Castle Yard handling legal issues ranging from wills to tax planning, education, personal injury, employment problems or business issues.
Mr Thompson said the profile of Moore Blatch's private clients in the south west mirrors that of Saunders & Company and he believes the newly merged operation is a good strategic fit for in-house expertise.
"Our staff are recognised for their ability to handle complex issues and we look forward to offering this service to clients of Saunders & Company.''
Christopher Saunders said he was delighted to be joining forces with such a well regarded firm in Richmond. "Many of my clients require a wide range of legal services and now they will be able to receive these through one firm,'' he said. "They will benefit from continuity and being looked after by some of the best legal experts in the south west.''
Mike Caton, senior partner with Moore Blatch said the synergy between the two firms means a seamless legal service for clients. "It was important for us to merge with a firm which has the same commitment to offering a bespoke and personal service as Moore Blatch.''