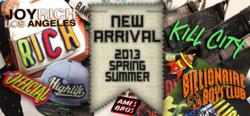 Spurbe has decided to surprise its customers by including quite a few more popular men's fashion brands in their collection
(PRWEB) January 08, 2013
Spurbe is an online retailer focused solely on offering a wide variety of men apparel from the hottest brands worldwide. Founded in 2011, the company has immediately earned its good name and managed to build an impressive client database across the world.
With the start of 2013, Spurbe has decided to surprise its customers by including quite a few more popular men's fashion brands in their collection. Kill City, Billionaire Boys Club, Ames Bros, Joyrich X Dee & Ricky, Mitchell & Ness and Pom Pom Beanie can all currently be found in their stock.
The Kill City jeans currently available in Spurbe's collection need no further introduction. Worn by Slash in 2011 at the Super Bowl half-time, Kill City's legendary appeal makes the jeans a must-have item for any fashion-savvy who seeks a casual and fresh look. On hand in various tones, styles and 100% cotton materials, the Kill City jeans provide that superb custom fit only a tailor can achieve.
Fans of popular TV show The Big Bang Theory have the perfect opportunity to dress up in Doctor Sheldon Cooper's geeky t-shirt collection with Spurbe now. The Ames Bros' handmade, high quality, comfortable and vintage t-shirts available in Spurbe's new stock guarantee a unique and sophisticated look.
Famous for the LEGO brooches, Joyrich X Dee & Ricky's apparel was highly appreciated and appraised by fashion designers for their originality, creativity and crispness. Some of the designers' newest pieces from the 2012 Fall/Winter season are now available at Spurbe. Customers who are interested in acquiring both the snap back pack and back pack will benefit from 20% off.
Spurbe is currently shipping apparel mostly in the United States and Canada. Customers from other parts of the world can also order footwear and attire from Spurbe by accepting a charge on the credit card for verification and order confirmation purposes. All shipments made by the company are out on business days only.
While it is a relatively young company, Spurbe has proved yet again its dedication in providing an extensive array of men's wear. The new brands added to their collection represent only a few of the pleasant surprises that the retailer has in store for the fans and clientele. Customers who want to keep up with the latest trends in men's fashion or who enjoy being well dressed irrespective of the occasion should consider subscribing to the company's newsletter at Spurbe.com.