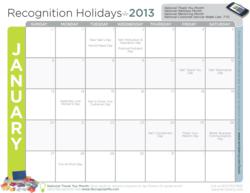 This calendar is offered freely to help people feel good about the work they do.
(PRWEB) January 09, 2013
Terryberry, a global provider of employee recognition solutions, has compiled a calendar of employee recognition and appreciation dates for 2013. The Recognition Calendar is chock-full of dates spanning the year that pertain to specific types of employment and industries – enabling managers and HR staffers to always be ready to acknowledge and reward hard-working employees on their special days.
Available for download at http://www.terryberry.com/tools, the 2013 Recognition Calendar features dates such as Tuesday, February 5th – National Weatherman's Day; Friday, March 8th – Working Women's Day; Tuesday, May 21st – National Waitresses/Waiters Day; and Friday July 26th – System Administrator Appreciation Day. The calendar also provides details on special weeks and months throughout the year that are dear to the hearts of specific businesses – such as National Mentoring Month, National Professional Social Worker's Month, Teacher Appreciation Week, and National Farmers Market Week. No stone has been left unturned in terms of providing a memory aid to allow workers in vastly different industries and businesses to receive praise and thanks for their contributions throughout the year.
"The old story is that many holidays are invented by the card companies in order to sell more greeting cards," confides Mike Byam, managing partner at Terryberry. "But if you're employed in an industry that does very specific, sometimes-thankless work, you can't help but feel a swelling of pride when you discover that there's a day, week or even month dedicated to your hard work and efforts. Everyone needs to be reminded that their contributions are noticed and valued."
Available for free on the Terryberry website along with numerous other free HR tools for employee appreciation such as the iRecognize app for mobile devices, the Recognition Calendar promises to make the work of human resource pros and managers of all types much easier, and more fun as well.
"This calendar is offered freely to help people feel good about the work they do," Byam says. "No matter what kind of work that might turn out to be. We even feature World Handshake Day, Thank Your Mentor Day, and Techie's Day. How can you beat that?"
About Terryberry
Terryberry serves more than 25,000 clients throughout North America and Europe. Family-owned for four generations, Terryberry specializes in employee recognition programs and employee appreciation gifts and products to keep employees engaged and motivated and companies growing in positive directions.
For more information, please visit http://www.terryberry.com.