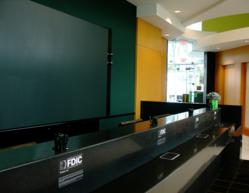 "We commend Saint-Gobain for demonstrating their commitment toward transparency by completing and third-party certifying an EPD for their Grenite product," said Paul Firth, EPD product manager at UL Environment.
Cleveland, OH (PRWEB) January 07, 2013
Saint-Gobain has issued an Environmental Product Declaration (EPD) for its Grenite® Engineered Stone Series. Compliant with ISO 14025, EPDs are internationally recognized, standardized tools that detail the environmental impact of a product.
"We commend Saint-Gobain for demonstrating their commitment toward transparency by completing and third-party certifying an EPD for their Grenite product," said Paul Firth, EPD product manager at UL Environment. "UL Environment is championing disclosure of environmental impacts with the building industry to help manufacturers meet evolving green building requirements and to help architects and designers make more responsible purchasing decisions."
To determine the product's eligibility for an EPD, UL Environment tested one square meter of the Grenite Recycled Refractory (Birch Prada) and the Grenite Recycled Slag (Anaconda Black) line in accordance with EPD product category rules (PCRs).
UL Environment develops EPDs in five steps, including verifying the product lifecycle assessment (LCA) meets requirements defined in the PCRs. The EPD presents the results of the LCA along with additional information about the product's performance and other sustainability attributes.
"At Saint-Gobain we believe in complete transparency about our products and receiving this EPD further demonstrates the sustainable nature of Grenite by discussing its whole story, from cradle to end-of-life," said Diana Ohl, product manager, engineered stone, at Saint-Gobain. "We are proud to offer our customers another valuable differentiation that makes Grenite the clear choice for surface materials."
Made in the United States from recycled materials, Grenite contributes towards LEED® points through the USGBC and is an environmentally friendly alternative to materials such as laminates, solid surfaces, quartz and granite. Grenite is one of the most abrasion-resistant of all countertop materials and is impervious to fungi and bacteria, making it ideal for high-traffic applications in the retail, hospitality, banking, education, healthcare, entertainment and restaurant industries. Grenite is GREENGUARD certified, non-porous, durable, easy to install and does not require sealing. The Grenite product line has also achieved NSF Splash Zone and NSF Food Zone certifications, making it a great choice for commercial areas that handle and prepare food.
For more information about Saint-Gobain's Engineered Stone, visit http://www.engineeredstone.saint-gobain.com or email engineeredstone(at)saint-gobain(dot)com.
About Saint-Gobain in North America
Saint-Gobain, the world's largest building materials company, has its North American headquarters in Valley Forge, Pennsylvania. As the world leader in sustainable habitat, Saint-Gobain is committed to inventing solutions to help professionals and communities around the world build and renovate comfortable, healthy, economical and energy-efficient buildings. The company has more than 265 locations in North America and approximately 19,000 employees. In the United States and Canada, Saint-Gobain reported sales of approximately $7.7 billion in 2011.
Saint-Gobain's family of companies in North America includes CertainTeed Corporation, as well as Saint-Gobain Abrasives, Saint-Gobain ADFORS, Vetrotech Saint-Gobain North America, Saint-Gobain Glass, Saint-Gobain Solar and Saint-Gobain Performance Plastics.
Recognized as a 2009 and 2010 ENERGY STAR® Partner of the Year by the U.S. Environmental Protection Agency, Saint-Gobain earned the 2011 ENERGY STAR Sustained Excellence Award, the highest level of recognition for outstanding contributions to protecting the environment through energy efficiency. For information about Saint-Gobain in North America, visit http://www.saint-gobain-northamerica.com.
About Saint-Gobain Worldwide
Saint-Gobain, headquartered in Paris, is the world leader in habitat markets – providing innovative solutions to meet today's challenges of growth, energy efficiency and environmental protection. With 2011 sales of $56 billion, Saint-Gobain operates in 64 countries and has nearly 190,000 employees. For more information about Saint-Gobain, please visit http://www.saint-gobain.com.
About Grenite®
Grenite® is a registered mark of Grenite Sustainable Solutions (GSS). GSS is a privately held development and custom manufacturing company focusing on the creation of sustainable composite materials for use in the building, retail, theatrical/thematic, and general commercial and residential markets. With domestic and international marketing capacity, GSS provides products and services to many of the largest companies in the U.S. The company is headquartered in Metuchen, New Jersey, with R&D and custom molded manufacturing facilities in Los Angeles and sales offices worldwide. For additional information visit http://www.grenite.com.