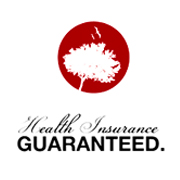 (PRWEB) January 07, 2013
Health insurance guaranteed, a team of professional licensed insurance agents serve as health insurance consultants and are helping to find an entire health insurance package, including dental, medical, critical illness and even life insurance. Guaranteed health plans include affordable health insurance plans for those who have already been diagnosed with a pre-existing or ongoing medical condition. All of their carriers are rated A+ which means the federal government has given their approval that these companies can be trusted to pay well and on time.
Health insurance guaranteed prides itself in offering health insurance solutions to those who need it the most. 'Guaranteed issue life insurance' is exactly what it sounds like – a life insurance that is issued without underwriting. No one can be denied - it is a guarantee!
When applying, there are no medical questions to answer, and there are no physical exams to take. Medical underwriting would typically determine how much one pays for his life insurance premium, but with a guaranteed issue life insurance policy, this part is eliminated. That means that premiums are determined by a scale of other high-risk policyholders in one's particular age demographic. In other words, if a 65 year old man is getting this policy, he will pay a premium based on the premiums of other men in his age group who are considered high-risk. That generally means - cheaper premiums for his life insurance.
Health insurance guaranteed works with only A-Rated carriers by AM BEST and other accredited organizations. They adhere to all federal regulations regarding pre-existing conditions, and where applicable – they accept creditable coverage according to HIPPA (Health Insurance Portability and Accountability Act).
Health Insurance Guaranteed is the nation's leader in health care for those with pre-existing conditions of all age groups. They have helped over 80% of their clients to find the suitable insurance coverage such as: diabetes insurance and obesity health insurance, prescription coverage and excellent catastrophic insurance for their pre-existing medical conditions. For those with creditable coverage or who have had insurance within the last 63 days, Health Insurance Guaranteed are even able to provide HIPAA plans that will accept and cover the person with the pre-existing conditions from THE FIRST DAY! This means a smooth transaction in coverage when moving from COBRA to an individual policy.
Health Insurance Guaranteed works with over 40 different carriers and over 10 different kinds of insurance plans, while providing references as well as any legal documents from the Department of Insurance in any state. They have helped thousands of Americans, they can help anyone! No need for endless internet search for insurance companies, local insurance agents are now just a touch of a button away.
To apply for health insurance and get a free consultation and visit the Health Insurance guaranteed website http://www.healthinsuranceguaranteed.com/index.php
or call 800-940-5446