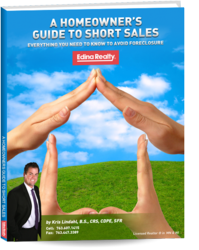 A real estate agent of the homeowner's choosing and a representative from Deutsche will agree on a selling price once a buyer is found
Blaine, MN (PRWEB) January 04, 2013
Kris Lindahl, an experienced Edina Realty agent, hosted a Deutsche Bank meeting on Thursday morning in Blaine, MN that covered the lenders short sale process in an effective presentation. Kris Lindahl is Edina Realty's number one short sale agent. Lindahl used a real life example from one of his former clients to describe the Deutsche Bank short sale process.
"Deutsche bank will require documents like a hardship letter, pay stubs, and tax forms before they will agree to a short sale process," Kris Lindahl explained at the meeting, and continued," A real estate agent of the homeowner's choosing and a representative from Deutsche will agree on a selling price once a buyer is found." Lindahl went on to explain that a short sale approval letter will then be written up by the agent and the lender representative.
This meeting was part of a larger campaign led by Kris Lindahl and his team of hard working, full-time Edina Realty realtors. Each of them hold the designations Certified Distressed Property Experts (CDPE), Short Sale & Foreclosure Resources (SFR), and Council of Residential Specialists (CRS).
Call Kris and his team at (763) 607-1415 for more information. Visit the Minnesota Short Sale Calculator website to check eligibility. Download a complimentary copy of the eBook titled "A Homeowner's Guide To Short Sales" and check out the short sale video series on YouTube.