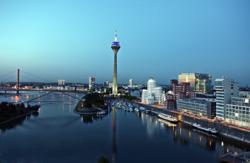 More and more people are discovering the city that is No. 6 on a global list of cities in quality of life.
Düsseldorf, Germany (PRWEB) January 07, 2013
The fascinating expansion of Düsseldorf from major business destination to major leisure destination is reflected in record-breaking visitor numbers for several years in a row. The city is approaching another record for 2012: the 4 million mark in hotel nights. Over 3.3 million nights are already booked through October – and with every quarter of 2012 bringing about a million visitors this year – reaching the 4 million mark is likely. More and more people are discovering the city that is No. 6 on a global list of cities in quality of life (Source: Mercer 2012 Quality of Living Survey).
"The continuously rising numbers in hotel nights are an impressive testimony that Düsseldorf has reached a status among tourists as a city you must see," says Dr. Eva-Maria Illigen-Günther, CEO of the city's tourism office, Düsseldorf Marketing & Tourism (DMT).
Huge visitor numbers to Düsseldorf used to result from a major trade show or event taking place, but now there's another reason. While Düsseldorf is still a major trade show town (23 trade shows that are international industry leaders take place here), the city's attractions and leisure options attract increasing numbers of tourists. What's more, those who travel here for business stay longer to enjoy the city.
A recent survey conducted by DMT among more than 1,000 hotel guests -- over a period that included three major trade shows -- showed: 55% were business travelers, 49% tourists, and 5% to see friends and family. Also remarkable is the fact that 56% visited the historic Old Town and its attractions, 44% planned shopping and 29% sightseeing activities. This year also showed an increase of 19% in guided city tours booked, and almost 30,000 people (+14%) joined the public walking tours offered by DMT.
"All this shows that business travelers become enthusiastic tourists after work and then tell people they know about the great leisure options the city offers," adds Illigen-Günther, following 22% of respondents saying they had been made aware of Düsseldorf as a leisure destination by others. Moreover, guests want to come back to Düsseldorf once they have experienced it: 45% expressed certainty about returning to Düsseldorf within the next three years.
For anyone considering a visit to Germany's new must-see leisure destination, DMT is offering hotel and city specials. Düsseldorf Packages can be booked online. Prices start at €49 per night per person based on double-occupancy for a 2-3 star hotel in the city center and at €69 per person for a 4-5 star hotel. All packages include breakfast, a Düsseldorf Welcome Card (free public transportation within city limits plus 30 free or reduced admissions to city attractions), and a city information package. Please check the website for current information.
For more information about the destination Düsseldorf, please visit website below.
About us:
Düsseldorf Marketing & Tourism GmbH is the visitors and convention bureau of the city of Düsseldorf. Its responsibilities include tourism and city marketing, as well as conference and meeting marketing, hotel reservation services, fairs and convention services, city event ticket sales and advance ticket reservations. For more information, visit website below.
Düsseldorf International Airport, Germany's Next Generation HubTM, offers several non-stop flights from US & Canadian cities (Atlanta, Chicago, Ft. Myers, Las Vegas, Los Angeles, Miami, New York, Newark, Toronto, San Francisco, Vancouver), as well as convenient connections to many European cities. For more information about the airport, visit http://dus-int.de/dus_en/.