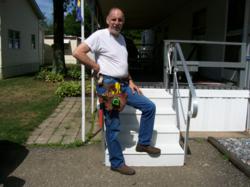 I Finally Found An Energy Supplier That Offers Real Energy Savings.
Erie, Pa (PRWEB) January 22, 2013
DIY Home Fix Tips is constantly on the lookout for helpful ways for DIY-ers to save money. Since it's inception, DIY Home Fix Tips has been dedicated to supplying information that DIY-ers can use that will help them save money.
Several years ago, the US Government mandated that the Gas and Electric utility companies be deregulated. The purpose of deregulation was to break up the monopolies that existed in the energy field and create competition so consumers might be able to enjoy lower utility bills.
When DIY Home Fix Tips was approached about switching energy providers, the owner didn't hesitate. Brian, the blog's owner said, "I had already heard that a local restaurant was saving about 20% on their gas supply with Ambit. I had received many offers in the mail previously, and none of them offered any real savings on energy. One company offered a 3 month introductory price that was lower than I was paying, but then the price jumped up to be higher than I was already paying. Others wanted me to "lock in " to an even higher price. I wasn't falling for that either. "
"Ambit not only offered a lower price, (I'm currently saving about 12% on my gas supply), but also gave me a 3 day, 2 night hotel stay just for giving it a try. A few weeks later, I already encouraged 6 other people to sign up and save with Ambit, so now I'm on my way to getting free energy! Not only that, I'm collecting points every time I pay my bill, towards a more elaborate vacation stay."
"It was a no-brainer. I finally found an energy supplier that offers real energy savings and I think others will want to know about this. I think my readers will be glad to know that Energy Deregulation is working. My per ccf rates is about 1/2 what it was a couple years ago."
DIY-ers and others may want to check with Ambit Energy to see if they can save on their utility bills and check to see what states Ambit is currently operating in.
About DIY Home Fix Tips:
The DIY Home Fix Tips blog treats their readers to quality, no bull info, tips, advice, videos and helpful product ideas related to DIY home repair. Brian Whiteman, the blog's author, has spent over 35 years designing, building, remodeling, and repairing residential homes. Mr. Whiteman is still active in repairing homes in the Erie, Pa. area. For more information about DIY Home Fix Tips, please visit http://www.diyhomefixtips.info.