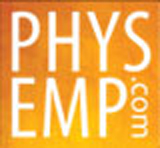 Connecting talented physicians with great opportunities since 1991
Fairfield, IA (PRWEB) January 10, 2013
Leading physicians job board site PhysEmp.com celebrates its nineteenth year this month, rounding out nearly two decades of helping talented doctors and interns forge relationships with employers and recruiters.
"We're passionate about what we do at Physicians Employment, and we look forward to the next twenty years ahead," says CEO Robert Truog. "Our staff knows that it takes tremendous perseverance and long hours to become a physician; after all that hard work, finding a job shouldn't be a struggle. We're here to streamline job search for physicians and help them find their ideal employers. And on the hiring side, we make things faster and easier for recruiters and employers by ensuring they'll find only top-notch, qualified candidates on our site."
Physicians Employment has been connecting recruiters and employers with outstanding physicians in all specialties since 1991. The company started out as a popular magazine in 1990 and moved online in 1994. Today, PhysEmp.com ranks more consistently #1 in Google for relevant physician job search terms than any other job board site. The company prides itself on fast, easy physician job search; streamlined usability; and its friendly, experienced customer service team.
Clients give PhysEmp.com's services rave reviews. Says David Steward of California Physician Opportunities, Inc., "As a subscriber to PhysEmp since 2008, I have found them to be a dependable and consistent source of a high volume of quality leads. In a competitive world where dealing with serious, qualified candidates makes the difference between getting placements or not, PhysEmp's resources definitely give recruiters the edge. In addition to the multitude of potential candidates, PhysEmp's other resources are of great assistance to us in the physician placement business."
PhysEmp.com offers a wide range of services to assist physicians in searching for employment, including the ability to apply to an unlimited number of positions for free and access the contact information of interested recruiters. Physicians can also sign up for job listing updates in selected specialities and send their CVs directly to recruiters who have posted positions. Both locum tenens and permanent positions are available.
Truog says that this year, PhysEmp is launching a special effort to help emergency physicians, psychiatrists, and ENTs (otolaryngologists) in particular.
"Physicians now have access to well over 1,800 emergency medicine jobs listed on our site, and we've made it easy for doctors to quickly scan them by US state—and internationally, in Australia and New Zealand," says Truog. "We also have a considerable number of physiatry jobs and psychiatry jobs—over 1,000 listings—and many ENT jobs posted as well. We make it our mission to ensure all specialties have options to explore."
Truog says the site plans to continue expanding its offerings in the new year.
To learn more about Physicians Employment, call 1-888-267-6115.