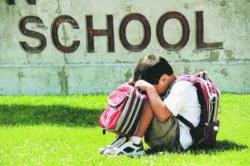 The American parenting culture must take its collective head out of the sand to see that the culture of punishment needs to change to a culture of compassion.
Peterborough, NH (PRWEB) January 15, 2013
Perhaps the only silver lining to the tragedy at Sandy Hook Elementary is an emerging and hopefully transformative conversation about gun control and mental health.
But, what about parenting? It falls under the heading of mental health, yet the conversation stops at disorders, dysfunctions, and diagnoses. How the culture supports child-rearing is the most fundamental of mental health issues, but no one wants to talk about it.
American parents believe in their right to treat their children however they want. But society suffers when what parents want stems from their own dysfunctions. Making children feel worse so they will behave better does not work, claims Harris. Punishments and harsh treatment can leave emotional scars.
Children are emotionally harmed by the very techniques touted by the parenting culture as necessary to raise responsible children:

punishments
blame
threats
isolation
bullying
hitting
name-calling
arbitrary "consequences"
Children take emotional scars out on someone, mostly themselves, says Harris. Sensitive children are most at risk. Children with a diagnosis may be the most frustrating to parent but also the most in need of calm, nurturing, firm, and consistent care. Children like the ones who ended up behind a gun.
The "tough love" parenting culture embodies coercive techniques that have spawned a society of the walking wounded. Parents get blamed, mental illness or something "on the spectrum" gets blamed. The truth is, other than psychosis, any mental illness or cognitive difference can be strongly influenced by educated, consistently positive parenting.
Harris claims that emotional problems are rooted in feelings of isolation, unimportance, powerlessness, insecurity, etc. Children suffering emotional problems are victims of parents, teachers, peers—anyone important in the daily life of a child. Most of these problems can be either avoided or healed through educated parenting.
Misinformed parents and teachers are not the culprits for they, too, are victims of the "tough love" parenting culture of punishment, which has been rearing children since time immemorial. Parents are at a loss feeling frustrated, angry, hating their child-rearing (because it doesn't work) but not knowing what else to do.
Parenting is a hard job, the hardest anyone will ever have. Often it feels impossible, because the help isn't there. The culture is stigmatized. Parents are supposed to know what to do, but feel ashamed to ask for help they should not need.
The American parenting culture must take its collective head out of the sand, says Harris, to see that the culture of punishment needs to change to a culture of compassion before the tragedies stop.
Not just school shooting tragedies—but the tragedies that fill American homes every day when frustrated, exhausted parents react punitively because it's all they know—when their children dawdle, don't do their chores or homework, when they are defiant or refuse to go to bed.
Blame and criticism not only do nothing to teach responsible behavior but also create bullies who play out feelings of powerlessness at school, who learn to get what they want by witnessing adult anger and attacks on them by yelling, hitting, threatening, and name calling.
Connective Parenting in no way suggests that the parents of killers could have stopped the killings. What is being suggested is that universally available parent education—taken advantage of—could change society dramatically. Every school in America must provide affordable positive parent education. Parents are floundering and children are still losing. Is there anything more important?
About Connective Parenting:
Bonnie Harris, M.S.Ed., parent educator for 25 years, founded Connective Parenting in 2003 with the release of her first book, "When Your Kids Push Your Buttons". Connective Parenting is based on principles that focus on the child's strengths rather than inadequacies while creating a balance between the child's needs and the parent's. Harris teaches parenting workshops, professional trainings and gives speaking engagements internationally. For more information, call 603 924-6639 or visit http://www.connectiveparenting.com.