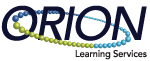 Toronto, ON (PRWEB) January 08, 2013
Orion Learning Services develops and delivers innovative, interactive courseware solutions to organizations who are seeking to train staff, improve new hire training, or implement elearning solutions into their organization.
"Orion Learning is able to deliver elearning training solutions to meet the needs of any small, medium or large organization looking to improve their training and development departments, reduce costs while improving employee interest, engagement and morale," said Orion Learning Services president Ken Kavanagh. "Our focus is to create interactive elearning courseware that allows users to learn in different ways that meet their unique learning needs and we have training courses and programs for beginners to advanced users."
What separates Orion Learning courseware from the competition is how the course is structured including comprehensive course material, resource and glossary delivered using a format which engages the user and is supported by interactive exercises to ensure user understanding of the course content. Each course also uses a solid assessment model and is backed by research and proven technology to create an easy-to-use, seamless and cost- effective training solution. Orion Learning Services puts your employees on the fast track to developing the essential skills necessary to guarantee your business success. In addition to offering an extensive list of elearning training programs, Orion Learning Services also offers Certification for Agents, Team Leads/Supervisors and Managers in Customer Service, Contact Center, Sales or Technical Support areas.
With the release of the new courseware and training programs, Orion Learning Services now has a full suite of interactive elearning courseware to meet and exceed all of your administrative, customer service, contact center, technical support, IT, and management training needs.
About Orion Learning Services:
Orion Learning Services is a member of the American Society for Training & Development (ASTD) and the Canadian Society for Training & Development (CSTD). For more information about Orion Learning Services, visit http://www.orionelearning.com or follow Orion Learning on Twitter at https://twitter.com/OrionLearning
Media Contact:
Ken Kavanagh
416.992.5158
service(at)orionelearning(dot)com