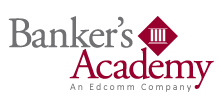 Fort Washington, Penn. (PRWEB) January 05, 2013
Banker's Academy has unveiled its all-new, redesigned 2013 course catalog.
The 2013 eLearning library consists of over 250 Compliance and Regulatory, Banking and Financial, and Professional Skills courses. All were built utilizing industry-leading instructional design concepts including intuitive and interactive learning components, comprehensive and up-to-date role-based and job-specific content, all tailored to the appropriate industries. Banker's Academy's 2013 eLearning library provides banks, credit unions, Money Service Businesses (MSBs) and other financial institutions with engaging learning solutions that are easy to deploy and manage — all while reducing risk and exposure.
The 2013 catalog offers the following innovative features:

Improved look and feel
Refreshed, updated and new content
Fully voiced courses
Review points that drive home the important concepts
Bookmarking allows learners to begin again where they left off
Interactive activities to add variety
Dr. Katherine Pang, Banker's Academy's Chief Learning Officer, spearheaded this effort that focused on the establishment of a creative vision for instructional design to ensure that Banker's Academy's product designs were educationally sound, based on current research, best practices, accepted pedagogy, and the developmental needs of the target audience. "We are very excited to launch our new 2013 catalogs which preview our new instructional design driven courses that emphasize interactivity and engagement for the learner at all levels throughout each course," Dr. Pang said. "The newly designed courses have been driven by an instructional design pedagogy that utilizes chunking and scaffolding so that each course contains topics that build on one another and scaffold learning in an intuitive and practical manner."
###
About Banker's Academy
With 25+ years of experience and over 2,500 clients, Banker's Academy is the leading global provider of training solutions to the financial services industry, with a focus on banks, credit unions, and money service businesses. We're a partner you can count on to help you achieve your business goals. For more information, call 888-433-2666, +1.215.542.6900, or go to http://www.bankersacademy.com.