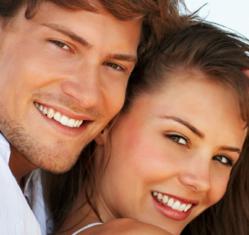 the same benefits of traditional peroxide based whitening formulas without the typical side effects
Port St Lucie, FL (PRWEB) January 04, 2013
For many years now, whether in dental offices or at-home DIY products, the only option typically available for teeth whitening was hydrogen peroxide based formulas. While hydrogen peroxide has proven to be effective for whitening teeth, some individuals find using it to be uncomfortable or even painful to due varying degrees of tooth sensitivity. Also, some products use actual hydrogen peroxide while others utilize carbamide peroxide (hydrogen peroxide with an added filler that ensures longer shelf life). Because carbamide peroxide is only one third the strength of hydrogen peroxide, many consumers experience confusion regarding the actual strength of the teeth whitening product they wish to purchase. Additionally, the EU (European Union) has banned the sale of peroxide based whiteners with greater than 0.1% hydrogen peroxide concentration. Only certified dentists in the EU may sell peroxide based teeth whitening products. This "monopoly" of sorts has led to severely inflated prices, angering the DIY consumer base there.
With the release of the all new kissMe! Non-Peroxide Home Teeth Whitening Kit, all these issues are eliminated. kissMe!'s all-new proprietary non-peroxide formula utilizes a powerful yet gentle whitening agent that achieves the same results as typical peroxide-based whiteners with virtually no tooth sensitivity. The complete teeth whitening kit features a pre-treatment cleaning formula that removes stains prior to applying the whitening formula for even better results. This new product also fully complies with EU standards, providing an exciting and much more affordable alternative for EU consumers.
kissMe! Teeth Whitening has become known for its Soft-Bite mouth tray - a convenient, safe and superior instant impression silicone mouth tray that is included in all their teeth whitening kits. The all-new non-peroxide kit will likewise include this same tray. Traditional mouth trays require a lengthy and hazardous preparation that includes immersing them in boiling water to form a full mouth impression. The popular Soft-Bite mouth tray from kissMe! requires no preparation and is ready to use as is. Made of soft FDA compliant food-grade silicone, it can form a perfect dental mold in seconds in a single easy step. Whitening gel is then immediately inserted into each tooth impression in the mold. "This is hands down the best kit I have seen! The mold is awesome," commented Jeffrey Stewart from Teambuy.ca, an online daily deal site.
A small, portable led light that corresponds to dental office blue light technology is included with the kit. By adding energy to the whitening process, the blue light shortens treatment time. Whiter teeth are noticeable after just 20 minutes and dramatic results are possible when all six treatments included in the kit are applied.
All kissMe! teeth whitening products are unique in that they are made in the USA and Kosher Certified, assuring product purity and manufacturing integrity.
kissMe!'s new non-peroxide kit will be made available for purchase by U.S. consumers in the first quarter of 2013. It will be made available in the EU later in 2013. To learn more about kissMe!'s entire line of teeth whitening products, please visit their website at http://www.kissmeteethwhitening.com.