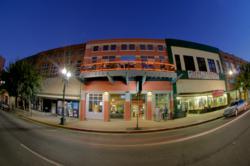 We're thrilled to bring Hollywood's biggest night to our theaters.
Shreveport, LA (PRWEB) January 07, 2013
The Robinson Film Center (RFC) will celebrate the 85th Academy Awards on February 24, 2013, with a red carpet watch party and Hollywood-style fundraiser at the Oscar® Experience: Shreveport. Movie-lovers are invited to dress for the flashing lights, watch the show on big screens, and glam it up like celebrities to boost the nonprofit's mission.
"We're thrilled to bring Hollywood's biggest night to our theaters," said RFC executive director Alexandyr Kent. "Our boosters demand great movies, and the Oscars are important to them. It's a best of both worlds to, on the same night, celebrate cinema's greatest and strengthen our nonprofit."
The evening will include red carpet arrivals with live television coverage from KTBS 3, the Shreveport-based ABC TV affiliate that will broadcast the Academy Awards live on February 24.
Also, guests can expect glamorous red carpet photo opps; an elegant reception tent on Texas Street; jewelry and fashion showcases; and signature martinis, heavy hors d'oeuvres and cupcakes designed by the film center's Abby Singer's Bistro. Guests can watch the live Oscar broadcast wherever they are, be it inside RFC's two theaters, in the bistro, or the grand reception tent on Texas Street.
"We love our audience, and this is an opportunity to say thank you to them with a little high Southern style," said board of directors president Waynette Ballengee. "Who doesn't want to walk down a red carpet on Oscar night?"
RFC also will unveil the nonprofits' latest Sidewalk Superstars, a program where $15,000 donors see their name—or an honored loved one's—installed in the sidewalk of Texas Street in downtown Shreveport.
"For our gala in April, we honored eight star sponsors," said Tina Kendrick, co-chair of development for RFC's board of directors. "Oscar night is the perfect night to toast our newest Sidewalk Superstars and celebrate the continued growth of our community contributors."
Kendrick co-chairs development with Lampton Enochs, an RFC board member and founding member of Moonbot Studios. His business partners William Joyce and Brandon Oldenburg won the Academy Award for the 2011 best animated short film for The Fantastic Flying Books of Mr. Morris Lessmore. It was produced by Moonbot Studios entirely in Louisiana.
"Our state produces great artists," said Enochs, "and the Robinson Film Center plays a vital role in showcasing and advancing their work. We need to continue to support RFC with our passion and donations. The Oscar Experience offers us the perfect night to do that."
Tickets for Oscar Experience: Shreveport will be $75 each. Tickets go on sale to the general public (including members) on January 7, 2013. Sidewalk Star sponsorships of RFC are $15,000 each.
"We ask a lot of movie-goers, and we are grateful every day for their generosity," Kent said. "I invite everyone who loves the Oscars, who loves movies, and who loves the Robinson Film Center to join the glamorous side of a good cause on February 24. You won't forget it."
Mission of the Robinson Film Center
The Robinson Film Center's mission is to educate, enrich and entertain through the power of film. RFC is a 501 (c) (3) not-for-profit arts organization located at 617 Texas Street in Shreveport, La.
# # #