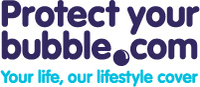 (PRWEB UK) 7 January 2013
Businesses concerned about the high costs of replacing personal and portable gadgets used by employees – including smartphones, laptops and tablets – can now benefit from Protect Your Bubble's comprehensive gadget insurance.
The cover is designed to help businesses avoid having to pay unexpected costs should they need to replace or repair gadgets assigned to employees.
Gadgets are covered worldwide as standard* against accidental damage, liquid damage, theft, breakdown outside the manufacturer's warranty period and unauthorised calls up to £100. Loss cover for smartphones and tablets is an optional extra.
Cover costs from £1.49 per month, per gadget, with a 15% discount for any businesses that insure three or more gadgets. Loss cover costs £1 extra per month for smartphones and £2 per month extra for iPads and tablets.**
Stephen Ebbett, director of Protect Your Bubble, comments: "It's a sad fact that gadget theft is a growing problem. Our personal and portable gadgets provide rich pickings for thieves, so it shouldn't be a question of whether or not businesses should protect employees' smartphones, tablets and gadgets, but how do this comprehensively and cost-effectively. Having to replace these devices – worth upwards of £500 in many cases – can be a financial blow to small businesses in particular."
Find out more and get a free quote here: Business Gadget Insurance

Worldwide cover for a period of 90 days only per annum
** Standard excess charge is £75 for laptops and £50 on iPhones, iPads and smartphones. All other items incur a £25 excess. All loss claims will incur an additional £25 excess. International claims will incur a £75 excess.
Get an instant quote for your gadgets via the following URLs:
Mobile Phone Insurance: uk.protectyourbubble.com/gi-mobile-phone-insurance.html
Business Gadget Insurance: uk.protectyourbubble.com/business-gadget-insurance.html
Tablet Insurance: uk.protectyourbubble.com/tablet-insurance.html
Socialise with Protect your bubble UK on the following social networks:
Facebook: facebook.com/ProtectYourBubble
Twitter: twitter.com/protectyrbubble
YouTube: youtube.com/protectyourbubble
# # #