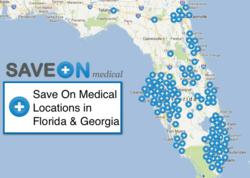 Miami, FL (PRWEB) January 07, 2013
After years of needing better tools for understanding health care costs, South Florida patients now have access to clear pricing with Save On Medical's transparency platform for health care price shopping and physician comparison. Patients can now compare 19 new providers in South Florida cities including; West Palm Beach, Weston, Miami, Aventura, Boynton Beach, Coral Springs, Deerfield Beach, Pembroke Pines, Ft. Lauderdale, Lake Worth, Plantation, Coral Gables, Delray Beach, Hialeah, Hollywood, Boca Raton, North Miami Beach and Miami Beach.
This addition of over 100 new providers in Florida alone means that Save On Medical has providers covering one of the states with the highest uninsured patient population. There are 3.85 Million uninsured Floridians, which accounts for 25.3% of the state. It was for this reason that Save On Medical focused on developing an extensive provider network in Florida from the beginning.
Save On Medical's Vice President, Matt Schneider has said that he is pleased to have so many providers on Save On Medical, dedicated to price and quality transparency, promoting consumer-driven care and a more educated patient population.
The ability to price shop and find self-pay pricing is no longer an impossible feat. Price transparency is becoming available to the masses and is not limited to just medical professionals anymore. Participating practices include the following; Imaging Center of Boynton Beach, Imaging Center of Lake Worth, Medical Center Imaging, Mizner Place MRI, Stand-Up MRI of Boca Raton, High Field MRI of Miami-Dade, Elite Imaging Locations, A1 Imaging locations, Coral Gables MRI, Ponce De Leon Diagnostic Services, Premiere Medical Imaging Locations, Imaging Center of Hollywood, Hollywood Diagnostics Centers, Millennium Diagnostic Center, Dadeland MRI & CT, Homestead Diagnostic Center, Plantation Open MRI, Open MRI of Miami-Dade, Imaging Center of West Palm Beach and Medical Center Imaging.
Visit the Save On Medical website to search for providers in your area today.
About Save On Medical
Save On Medical is a patient tool similar to Expedia for travelers. The website allows patients to price shop, compare and book health care procedures online. Patients are able to search for medical services by price, quality and convenience with the help of the SOM Docometer. By comparing average costs of services in the patients' region, Save On Medical allows for pricing transparency in the health care market, helping the patient to decide what is important to them when it comes to their care. Save On Medical patients can easily schedule appointments and pay for services stress-free and at a fraction of the price, in a time where health care costs are high and price transparency seems impossible.