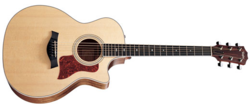 "The reliability of a Taylor [414CE Grand Auditorium Cutaway] is simply impeccable. It stays in tune extremely well and always delivers as promised."
Rob, AMS Customer
Oakland Park, NJ (PRWEB) January 07, 2013
Working musicians are sometimes forced to make do with what they have. There are times when money is tight, and it is difficult to procure the necessary equipment for one's profession. Now with limited time Taylor 12-month payment plans guitarists can get the Taylor Acoustic Guitar sound they love and finance it in a way that makes business sense. With 12 Easy Payments on Taylor Guitars musicians can have high-quality gear at an affordable monthly rate without paying any interest. Best of all, these AMS payment plans allow consumers to use their own existing credit card which means there is no need to extend a new line of credit to take advantage of this special financing option.
These payment plans apply to guitarists with many different needs and preferences. KRK and Cerwin-Vega supply the amplification with their patented speaker technology. The KRK Rokit series has been lauded for its affordability and sound amongst studio monitors. Musicians will be hard pressed to find a pair of monitors with more overall value with 8 Easy Payments from AMS.
The diverse selection of Schecter, Cordoba, Ramirez and Taylor guitars means there is something for artists in any genre. Schecter guitars including the Schecter C1 are known for their adeptness at hard rock and heavy metal; Taylor, Ramirez and Cordoba for their acoustic warmth and craftsmanship. These payment plans make it possible for all types of musicians to add to their arsenal. The following is an example of the economical payment plans offered by AMS on the Taylor 414CE Grand Auditorium Cutaway.
AMS Price of Taylor 414CE: $1,899.00
AMS 8-Month Payments: $237.38
AMS Limited-Time 12-Month Payments: $158.25
AMS is offering a solution to musicians' needs for obtaining professional level equipment now without emptying their savings. By using quality gear attained from the Taylor Guitar 12 Easy Payments musicians can capitalize on their skills, and this could result in a better livelihood. Visit American Musical Supply for more information on musicians' favorite brands like Taylor Guitars, KRK, Cerwin-Vega, Schecter, or Cordoba guitars.
###
Located in Oakland, New Jersey, American Musical Supply is a leading online merchant of professional and affordable musical equipment and supplies including guitars, amplifiers, live sound, DJ gear and more. AMS offers award-winning customer service and the AmericanMusical.com website has also been ranked in Internet Retailer's top 500 e-retailing businesses.