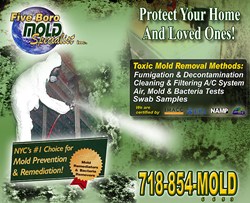 NYC Mold Services Company Owner, Motty Katz, celebrated for his achievements to NYC Mold Industry.
New York, NY (PRWEB) January 14, 2013
NYC mold inspection and removal company owner, Motty Katz, receives prestigious "Super Award from AngiesList for Premier NYC Mold Inspection and Mold Removal Company.
Over the past twenty years, Motty Katz has been providing the NYC metro area with effective and professional environmental services. As his first business venture, Motty Katz was successful in starting and running a NYC flood removal and water damage removal company in NYC for several years. After getting settled with his first business, Mr. Katz then decided to diversify and move on to other environmental services for lead and asbestos removal services in NYC. While getting his new business ventures off the ground, Motty Katz then decided to start purchasing other related businesses in the NYC area to further his environmental services conglomerate. As Mr. Katz had already had a knack for business, he ended up being very successful for years to come with his environmental empire until he decided to get out of the rat race of corporate business.
Motty Katz then decided to cash out his chips with the environmental empire he built to start a new, much smaller business, specifically for NYC mold inspection services and NYC mold removal services. While setting up his new NYC mold remediation services company, Motty Katz saw a need for an effective reporting software to be developed for home owners, business owners, property owners, insurance companies, city officials, and courthouses for legal proceedings. Shortly after developing such software, Mr. Katz's idea for this NYC mold inspection reporting system software widely became accepted as the industry standard in New York City and surrounding areas.
Moty Katz has achieved more than most, while earning awards and being highlighted in major newspapers such as the New York Times and NYMag for his prestigious accomplishments. After serving the NYC metro area with professional environmental services for twenty years, Motty Katz and his crew are readily available for any situation, such as the chronic toxic mold problem currently running rampant through NYC and outlying areas. As Mr. Katz is no stranger to providing swift emergency services for any situation, such as for Hurricane Sandy. This is not his first hurricane he or his companies have dealt with considering they have been around for over twenty years.
All property owners in the NYC area should be made aware of the toxic mold problem spreading through out the NYC metro area. With the flooding and water damage caused by Hurricane Sandy, rest assured there will be mold growth sooner or later.
Contact - http://www.FiveBoroMoldSpecialist.com