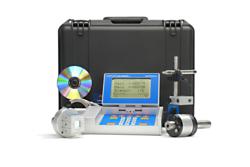 Peabody, MA (PRWEB) January 07, 2013
Pinpoint Laser Systems, a laser alignment system manufacturer, has introduced the Microgage Spindle Alignment Kit, a unique new alignment and measurement system for lathes, turning equipment, spindles, and related machinery. The spindle alignment kit is turnkey, easy to use, and easily transportable to the factory floor. Ideal applications include aligning lathes and turning centers, adjusting boring mills, setting up spindles, aligning drive shafts, adjusting barfeeders, and many other industrial applications. This new Microgage system provides information on runout, centerline offset, parallelism, concentricity and other useful parameters that can guide machinery back to optimal alignment and improved profits.
This Pinpoint lathe & spindle alignment system is simple and quick to use with a round laser that is secured into a chuck or attached to the end of a shaft or spindle. A dual-axis receiver is placed on the tailstock, tool holder, or another piece of equipment that can receive the laser beam. As the laser and the receiver move relative to each other, the digital display provides a precise reading of the alignment and machine's characteristics. The new Microgage Spindle Alignment tool can measure to a precision of 0.0001 inch or better and the laser allows for alignments over distances as great as 150 feet. The recent introduction of Pinpoint's newest Capture™ software which is included in the kit, brings added precision, easy to follow screen instructions and informative data displays to further assist the alignment of spindles and lathes.
The Kit operates on batteries and all components are compact and durable, machined of solid anodized aluminum or stainless steel for wear resistance. The USB Interface connects to a laptop or PC for running Pinpoint's popular Capture™ software. It provides easy to follow instructions and graphic images to simplify the laser alignment process. The Microgage Spindle Alignment Kit includes a compact carrying case to store the components and is easily moved to the manufacturing floor.
About PinPoint Laser Systems
Since 1992, Pinpoint has offered a broad line of alignment and measurement laser systems that are easy-to-use, versatile and portable. These products are designed to pay for themselves quickly by decreasing manufacturing downtime and increasing product quality. The laser alignment tools are used for both routine and complex measurement and alignment tasks, delivering measuring resolution of 0.0001 inch and working over ranges of 180 feet. Pinpoint's aligning equipment is actively used in a diverse range of industries, including aerospace, aircraft, machine shops, paper and textile mills, shipbuilding facilities, medical scanning equipment, extrusion plants, and electronic assembly facilities, to name a few. Pinpoint offers customized solutions, working closely with manufacturers to engineer specialized products for their unique applications.
For more information on this product or other news items, please contact Pinpoint Laser Systems, Inc. at 1-800-757-5383 (USA only) or 978-532-8002. Or email your questions to rbelt (at) pinlaser (dot) com.