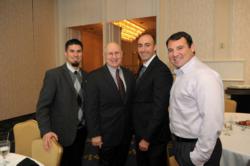 We want to give back to our local community's veteran population.
Houston, Tx (PRWEB) January 05, 2013
Recently, staff members from Security America Mortgage, Inc., a Houston VA home loan lender, participated in an Association of the United States Army general membership meeting held at the Renaissance Houston Greenway Plaza, where AUSA members spoke out with a call to action for collecting funds to build a U.S. Army museum.
U.S. Army retired Brig. Gen. Creighton Abrams was in Houston to talk about the National Museum of the United States Army during the general membership meeting of AUSA Houston Sub-Chapter. Abrams serves as the Executive Director of the Army Historical Foundation in Arlington, Virginia.
"Today there are approximately 11 million living US Army veterans, most of whom served during times of war. While there are more veterans of the Army than of any other service, the Army is the only one without a national museum or monument", said Abrams.
These 11 million living Army veterans – along with the more than 1 million men and women currently serving in the active Army, Army Reserve, and Army National Guard – are currently the only veterans not celebrated in a national, world-class museum. They deserve recognition and appreciation for their service to our nation.
The National Army Museum is designed to honor our living veterans and showcase the legacy of some 30 million men and women who have worn the Army uniform since 1775.
"I was involved in Air Force public relations for 12 years, so I understand how important it is to remember military heritage and tell the story of our Veterans to the public", said Steve Otero, Security America Mortgage Inc., Public Relations Director.
"Over 200 hundred years of Army history have produced numerous important artifacts, photographs, and documents ... a museum will preserve, study, and exhibit Army history for generations to come", Otero said.
AUSA members in attendance also took some time to recognize a local wounded warrior, retired United States Marine Corps Lance Cpl. Stephen Schultz, for his service and sacrifice to his country.
In 2005 Schultz was serving his second tour in Iraq when he was struck by an IED in Fallujah, causing damage in the form of severe traumatic brain injury and altering his life and that of his families' forever.
In addition to a bit of public recognition for Cpl. Schultz, the AUSA, Wounded Warrior Project, Security America Mortgage and Contempo Home Builders have partnered together to build a gazebo at his family home just south of Houston.
"In addition to providing VA home loans in Texas, we want to give back to our local community's veteran population, so when we got the call that one of our 100% disabled veterans was in need we stepped up", said Sebastian Burfitt, Director of Compliance, Security America Mortgage Inc.
The gazebo project is scheduled for completion in early 2013. Multiple non-profit organizations in addition to private companies in the Houston area are leading the charge to make Houston, Tx, the most veteran friendly city in America.