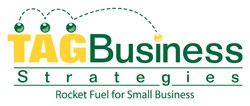 Orlando, Florida (PRWEB) January 04, 2013
TAG Business Strategies, an Orlando based recognized leader in online local marketing including local search and SEO for small and medium businesses, is proud to announce an invitation to bid on a government contract by the School Board of Orange County, Florida. The new program being implemented by the School Board of Orange County will utilize newsletters, among other marketing tools, to reach out to local businesses for support.
Bill Konstand, President of the TAG Companies, says, "We are honored to be invited to bid on this type of project by the school board. This is a good indication that our reputation for the most effective marketing strategies is not limited to the private sector."
TAG Business Strategies (http://www.TBSworks.com), founded in 1999, is one of the oldest and most trusted local internet marketing firms in the world. TAG is dedicated to helping small and medium businesses find new customers online using social, local and mobile technologies (SLoMo). TAG has built a reputation of having the most effective internet marketing strategies and has a client list that even includes Fortune 500 Clients like Pulte Homes.