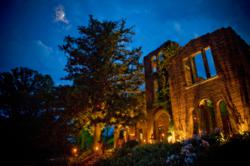 Adairsville, GA (PRWEB) January 07, 2013
With a romantic storybook history and beautiful surroundings, award-winning Barnsley Gardens Resort in Georgia is the ultimate couples' getaway for an unforgettable weekend. Lovebirds can enjoy a Valentine's Day Weekend Package February 15-17 that includes a two-night stay with breakfast, chocolate covered strawberries, a special gourmet Rice House Valentine's dinner, and a $150 in resort credit; moonlit horse-drawn carriage rides, and roses and cocktails in the Ruins starting at $914. To arrange a Valentine's weekend rendezvous (or visit any time of the year), please contact Barnsley Gardens Resort at 877-773-2447 or visit http://www.barnsleyresort.com.
Although they certainly pull out all the stops on Valentine's Weekend, every day is Cupid's dream at Barnsley Gardens Resort. Just north of Atlanta, the resort is a key destination for those looking to kindle a flame and the perfect choice for a romantic getaway.
How Does Barnsley Celebrate Love, Let Us Count the Ways:
Once Upon a Time: The original manor home, surrounded by intricate gardens, is the heart of the resort and was built by an industrialist for his wife. Furthermore, a (German) Prince bought the land for his Princess and turned it into a resort, so anyone could experience the gorgeous preserved ruins and landscaping.
A Dream is a Wish Your Heart Makes: Barnsley Gardens Resort has an on-site Fairy Godmother who caters to dreams and wishes. Fairy is well-known for enhancing stays with her signature Love Spells, arranging amazing, over-the-top proposals, and generally making guests' desires come to fruition. No task is too big or too small for this sprite.
Casting a Spell: Fairy Godmother's Love Spells go beyond champagne and roses. Imagine a room transformed into an amazingly romantic, beyond imagination setting. Spells have names like Scarlett Nights and Chocolate Fantasies. Love Me S'more features a fluffy comforter, plush pillows, and candles in front of a glowing fireplace accompanied by hot chocolate, graham crackers, marshmallows, Hershey bars, bamboo skewers, and a bottle of Bailey's. Despite having a creative array of choices, Fairy is not limited to the list and can create custom experiences.
A Great Meal is the Way to the Heart: Barnsley offers amazing, secluded and secretive dining spots. Private dinners can be arranged on candlelit, white linen-covered tables under the stars in the Ruins; in a hidden bamboo garden, or served fireside, complete with personal butler service.
Snuggle Time: Accommodations are set in cozy cottages that resemble an English Country Village, luxuriously decorated with country chic furnishings and featuring private fireplaces. Porches are adorned with rockers and porch swings, perfect for enjoying each other's company.
The Couple that Plays Together, Stays Together: The 3,300-acre resort offers a variety of exciting activities that include sporting clays, horseback riding, golf, canoeing, and hunting. Duos can also relax at the resort's world-class spa where they can indulge in a soothing couples' massage.
All these unique attributes and amenities truly help Barnsley Gardens Resort stand out when choosing a date night out or romantic Georgia getaway. Magical, storybook true love abounds throughout each aspect of the Barnsley experience.