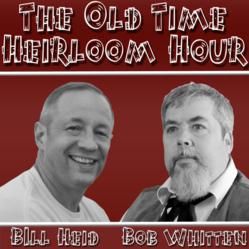 *Satire* My kids were actually big fans of the 'First Plastic Surgeon Kit.' Kids these days really need to learn a new skill after all *Satire*
Thomson, Ill. (PRWEB) January 05, 2013
"The Old Time Heirloom Hour" is a web-based variety show filmed in front of a live audience in The Heirloom Market & Café. The variety show aired its first show on September 8, 2012. The release today is a very special event for The Heirloom Market & Café as it is the tenth episode of the show to be released.
During this very special edition of "The Old Time Heirloom Hour," hosts Bob Whitten and Nick Huizenga survey Whitten's playful "Top Ten Games Not To Buy The Kids For Christmas Next Year" list. They also hear from their good friend and neighbor, "Baitshop Todd" on this week's ice fishing report. The hosts are joined by local bluegrass music duo, "Dirt Simple." Then to wrap things up, they watch a wacky rendition of the antics that go on between Heirloom Solutions Senior Botanist, Nick Huizenga, and his faithful sidekick, David.
To open the show, Whitten shares with the audience his playful list of "Top Ten Games Not To Buy The Kids For Christmas Next Year." Among the contenders on the list, "Build Your Own Taser Kit," the "Will It Catch Fire Game," and "First Plastic Surgeon Kit." Whitten tells the audience that the "First Plastic Surgeon Kit" came complete with two free Botox injections. "My kids were actually big fans of the 'First Plastic Surgeon Kit.' Kids these days really need to learn a new skill after all," says Huizenga.
After the jesting is all over, the hosts invite "Bait Shop Todd" up onto the stage to get serious about ice fishing. Todd tells everyone of his favorite way to go ice fishing, as well as the baits and set ups that everyone is coming in and buying from his twenty-four hour bait shop.
Throughout the show there are performances from local bluegrass music sensation, "Dirt Simple." This duo consists of Marcus Morel and Kendra-Beth Swanson. Their bluegrass music includes instruments such as a twelve-string guitar, banjo, harmonica, and washboard. As they play through four of their original songs, the crowd support grows with every note and Whitten can't say enough about them.
Finally to wrap up the show, as usual, they play another wacky skit performed by Huizenga and his sidekick David. In a black and white video with speed enhancements to add to the comedic value of the skit, David tries filing some paperwork for Nick and makes a mess of the seed room. As the file cabinet comes crashing down on David, the audience gasps as if to try to warn him.
To see the entire show, go to… http://www.theheirloommarket.com/oldtimeheirloomhour.html?utm_source=PR&utm_medium=PR&utm_campaign=1513PR.