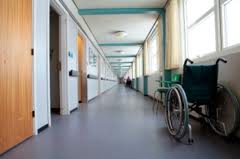 To put felons convicted of serious crimes in a nursing home where vulnerable elderly people are cared for, is nothing short of appalling.
Newport Beach CA (PRWEB) January 05, 2013
California corrections officials have admitted that they knew about a private prison company housing a convicted murderer, rapist and two other felons at an Oklahoma nursing home, but say they had no role in "approving or objecting" to the use of the care facility. According to a Dec. 31 news report in The Oklahoman, the Buena Vista nursing home in Midwest City was fined $168,000 by the state health department for housing four convicted felons for a month last year and has been investigated by the state each year since 2003 for a variety of safety violations.
The article states that the inmates were housed at the nursing home from Oct. 19, 2011 to Nov. 15, 2011 – after they suffered severe head injuries in a riot at the North Fork Correctional Facility in Sayre. The inmates were kept shackled to their beds and watched over by armed guards, not far from the elderly residents at the nursing home, the report said.
The inmates were all transferred to prisons in Arizona and California once they recovered from their injuries at the nursing home, The Oklahoman reports. Buena Vista was slapped with the fine for placing its 120-plus residents in "immediate jeopardy," the report states. State officials also told the newspaper that it was very "unsettling" and traumatic for residents at the nursing home to see the prisoners being taken through the facility.
'To put felons convicted of serious crimes in a nursing home where vulnerable elderly people are cared for, is nothing short of appalling', said John Bisnar, founder of the Bisnar | Chase personal injury law firm. "There is no question that they pose a serious danger to the residents. It is shocking that this could happen in nursing homes where families hope their loved ones will be safe while they get the care and attention they need."
Nursing homes should be no different from neighborhoods and communities, Bisnar said. "Would anyone want a dangerous inmate to move next door to him or her? Would we want convicted felons who are still serving their time to wander around in parks where our children play? Why should a nursing home be any different? Nursing homes have a legal obligation to keep their residents safe and provide them with the best possible care."
About Bisnar | Chase
The California nursing home abuse lawyers of Bisnar | Chase represent people who have been very seriously injured or lost a family member as a result of nursing home neglect, defective products or auto accidents. The law firm has won a wide variety of challenging personal injury and wrongful death cases involving car accidents, work related injuries, negligence and defective products made by Fortune 500 companies. The firm has also been featured on a number of popular media outlets including Newsweek, Fox, NBC, and ABC and is known for its passionate pursuit of results for their clients.
For more information, please call 800-561-4887 or visit http://www.bestattorney.com for a free consultation.
Source: http://newsok.com/california-officials-knew-prison-company-was-housing-murderer-rapist-at-midwest-city-nursing-home/article/3741651