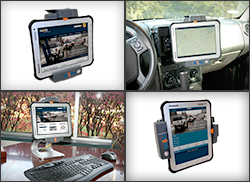 Warminster, PA (PRWEB) January 07, 2013
As the world's largest consumer technology tradeshow, this week's 2013 International CES® in Las Vegas will highlight the latest innovations in the consumer electronics industry. Wireless technologies and mobile trends are expected to take center stage at this year's conference, driven by the growing adoption of tablets and smartphones.
Panasonic Corporation's new president, Mr. Kazuhiro Tsuga, will deliver the opening keynote address at CES, which is scheduled to run from Jan. 8-11, 2013. Panasonic will showcase its hottest tablets, including the Android-powered Toughpad™ A1 and B1.
The tablet displays will also feature Havis Inc.'s Toughbook Certified Docking Station for the Toughpad A1, which was released in November 2012. Additionally, Havis is providing Panasonic with a docking station prototype for the Toughpad B1.
As a Toughbook Certified Partner of Panasonic, Havis knows what it takes to meet the industry's toughest safety and quality standards. Havis offers a variety of docking stations that have achieved Toughbook Certification by passing Panasonic's rigorous testing process and demanding performance standards.
These docking stations were tested to withstand MIL-STD 810G vibration testing, in-vehicle crash simulations, environment testing and extreme durability testing. For the mobile worker, this testing ensures that their laptop or tablet will remain securely docked and protected through rugged driving conditions and extreme work environments.
Havis' close relationship with Panasonic allows the company to design the industry's toughest docking stations for the latest Panasonic tablets and laptops. Havis and Panasonic will continue to collaborate to provide mobile workers with reliable, custom computing solutions that maximize productivity in the field.
For more information on the features, specifications and certifications of the Docking Station for the Panasonic Toughpad A1, please visit http://www.havis.com/toughpad. To view all available Havis tablet docking stations, please visit http://www.havis.com/catalog/Tablet_Docking_Cradles-5901-1.html.
FOLLOW HAVIS
Stay up-to-date on the latest products and announcements from Havis through Facebook, Twitter and YouTube.
ABOUT HAVIS
Havis Inc. is a privately held, ISO 9001:2008 certified company that manufactures in-vehicle mobile office solutions for public safety, public works, government agencies and mobile professionals. For over 80 years, the Havis mission has been to increase mobile worker productivity with industry-leading products that are built to the highest safety and quality standards and are designed with comfort in mind. Headquartered in Warminster, Pa., with an additional location in Plymouth, Mich., Havis currently employs 200 people. For more information on Havis, please call 1-800-524-9900 or visit http://www.havis.com.
ABOUT THE INTERNATIONAL CES
The International CES is owned and produced by the Consumer Electronics Association (CEA), the preeminent trade association promoting growth in the $195 billion U.S. consumer electronics industry. More than 2,000 companies enjoy the benefits of CEA membership, including legislative advocacy, market research, technical training and education, industry promotion, standards development and the fostering of business and strategic relationships. CEA also owns and produces the International CES – The Global Stage for Innovation. All profits from CES are reinvested into CEA's industry services.
CONTACT:
Andrea Felice
Havis, Inc. | Marketing
Phone: 215-957-0720 ext. 3198
E-mail: media(at)havis(dot)com
http://www.havis.com