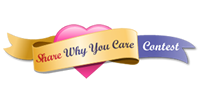 We want our users and caregivers to know they are appreciated for all they do.
Foster City, CA (PRWEB) January 07, 2013
ElderCareLink.com, a one-stop elder care resource, is hosting a contest this January specifically for caregivers. The "Share Why You Care" contest is designed to give a voice to the approximately 76 million unpaid family caregivers in the U.S. From January 7, 2013 to February 1, 2013 the site encourages these dedicated individuals to share their stories, struggles and memories.
As the first wave of the Baby Boomer generation prepares for retirement, many are finding themselves in caregiving positions because their parents are living longer than ever before. In some cases, plans for a leisurely retirement have been put on hold have so they can be available 24 hours a day, seven days a week for aging loved ones.
"It can be exhausting being responsible for someone else all the time," explained Vicki DeLuca, spokesperson for ElderCareLink.com. "We want our users and caregivers to know they are appreciated for all they do."
Caregivers may submit an essay of 300 words or less describing why or how they became a caregiver and what caregiving means to them. Optionally, users may also submit a photo of themselves and those they have cared for. Essay submissions are entered automatically into the competition for a chance to win weekly $50 prizes and the submission with the most votes will be awarded the grand prize of a free spa day and in-home care of their loved one, worth $350.
"Caregivers aren't always appreciated for all the work they do," continued DeLuca. "The real value of the 'Share Why You Care' contest is that their voices can be heard."
To see the entries or enter the contest, please visit the contest homepage at ElderCareLink.com and follow ElderCareLink.com on Twitter and Facebook.
About ElderCareLink.com
ElderCareLink.com, a one-stop elder care resource, provides a community of support, advice, and caregiving resources for families in need of elder care. To date, ElderCarelink has provided information and assistance to more than one million families nationwide with finding in-home care, assisted living, nursing homes, adult day care, private duty nursing, and care management services. ElderCareLink.com is owned and operated by QuinStreet, Inc. (NASDAQ: QNST), one of the largest Internet marketing and media companies in the world. QuinStreet is committed to providing consumers and businesses with the information they need to research, find and select the products, services and brands that meet their needs. The company is a leader in visitor-friendly marketing practices. For more information, please visit QuinStreet.com.