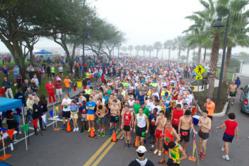 I have seen many [NTC] employees participate in charity functions this year; giving back is an important part of our culture
PALM HARBOR, FL (PRWEB) January 07, 2013
On December 15, Nationwide Title Clearing Inc., (NTC) , a leading service provider for the residential mortgage industry, sponsored the Say No To Drugs Holiday Classic 5K/10K (1) at Coachman Park. NTC had 20 employees volunteer at the race to promote healthy and drug-free living. NTC representatives assisted with advance and onsite registration, race chip distribution and manning water stations throughout the course.
As a local Palm Harbor employer, NTC strives to make the community a prosperous place to do business, as well as a safe and enjoyable place to live. When issues arise that can affect deter from that, employees take action.
According to the Tampa Bay Times, the abuse of prescription pills throughout Florida (particularly in the Tampa Bay area) is the area's greatest law enforcement crisis, affecting not only repeat criminals but also otherwise law-abiding citizens struggling with addiction (2). Chris Sprowls, Assistant State Attorney in the Sixth Judicial Circuit, added, "We will need community groups to continue to step up to provide education and prevention services."
The drug epidemic is a local problem. NTC senior executives chose to support organizations helping to alleviate the problem in their company community efforts. NTC shares the same mission of the 'Say No To Drugs' program, which promotes healthy and drug-free living. The 'Say No To Drugs Holiday Classic' uses sports to help deliver the messages to kids and adults alike.
NTC's community efforts have been increasing as they have been hiring more employees, adding approximately 150 employees in 2012. In addition to performing land records research, reporting services and document processing for the residential mortgage servicing industry, employees sign up to volunteer at various charity events around the Tampa Bay area including food, clothing and blood drives.
"We consistently participate in community events that support worthy causes," commented John Hillman, CEO of NTC. "I have seen many [NTC] employees participate in charity functions this year; giving back is an important part of our culture."
As NTC is a drug-free workplace, company officials say they plan to support the Say No To Drugs Holiday Classic again in 2013.
For more information, visit http://www.nwtc.com.
About Nationwide Title Clearing, Inc.:
Based in Palm Harbor Florida and founded in 1991, Nationwide Title Clearing, Inc. (NTC) is a privately-owned leading service provider to the residential mortgage industry, serving mortgage lenders, servicers and investors, including eight of the top 10 residential mortgage servicers in the country. NTC earned the position of #2,730 on the 2012 Inc. 5000 list of fastest-growing private companies in America, ranking #36 in Tampa and #46 in the real estate industry. The company's land records and document experts are able to track and fulfill county document requirements for close to 3,600 recording jurisdictions nationwide. NTC specializes in providing land records research, lien release services, assignment services, final document tracking, document retrieval and other custom business solutions. For more information, visit the company's website at http://www.nwtc.com.
(1) Say No To Drugs Holiday Classic 5K/10K - saynotodrugs.com
(2) Sprowles, Chris. TampaBay.com. November 21, 2012. "Database Funding Key to Fighting Prescription Drug Abuse," tampabay.com/opinion/columns/database-funding-key-to-fighting-prescription-drug-abuse/1262472