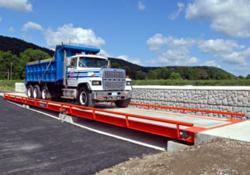 Olive Branch, MS (PRWEB) January 07, 2013
To ensure that their customers experience year round efficiency, Floor Scales Direct proudly provides highly durable, rugged, and dependable axle scales that are available for immediate purchase. These newly available axle scales, otherwise known as truck scales, are used across the world to accurately weigh trucks of various sizes and cargo loads. These types of scales are commonly found in shipping and receiving centers as well as truck weigh stations that are scattered across public highway systems.
These truck scales are absolutely essential to keep overloaded trucks off the road. Overloaded trucks pose a major danger to passenger vehicles as the extra weight the vehicle is towing will increase stopping time and decrease handling. Additionally, overloaded trucks cause extensive damage to roadways and highway systems, which costs taxpayers millions of dollars in annual maintenance and road repairs.
Floor Scales Direct is one of the United States' leading manufacturers of various industrial and commercial grade scales. These scales are used across a wide variety of industries and have numerous applications. From truck scales to specialty scales, Floor Scales Direct assists its customers in simplifying their shipping and delivering processes by providing reliable, durable, and rugged scales.
During the Holiday Season, the demand on shipping and receiving professionals greatly increases. This in turn means that everyone from warehouse workers to truckers will be working overtime to ensure that all of their company's products are delivered in a timely and correct manner. However, when an industrial scale breaks and loads cannot be quickly calculated, this can cause major delays for shipping professionals across the country.
If a business is at a standstill due to inefficient axle scales of any size, consider purchasing a scale from Floor Scales Direct. The axle scales available feature these benefits:

Quick and Easy Assembly
Highly Accurate Readouts
Designed and Engineered to Weigh Vehicles
Watertight design
Factory Calibration
Applications for Vehicles, Container Weight, and other Industrial purposes
Floor Scales Direct has a scale that will meet any industrial or commercial demands. Floor Scales Direct is a division of Triner Scale, one of the United States' oldest and most prestigious scale manufacturers. Triner Scale has been in operation since 1897 and this respected company has provided scales to the United States Postal Services, various air lines, and national shipping companies alike. For more information, visit http://www.floorscalesdirect.com for additional information.