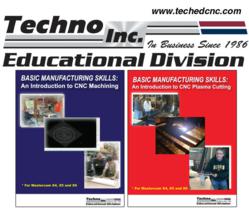 Industrial Equipment
Educational Prices!
New Hyde Park, NY (PRWEB) January 09, 2013
Techno, Inc. Education Systems, because of the high demand, is proud to announce that their two manufacturing skills curricula have been updated to now work seamlessly with Mastercam X4, X5 and X6. Techno, once again, is making both of these new versions available to instructors and students for free for the rest of the academic year online at http://www.techno-isel.com/Education1/Manuals/Login.htm just by registering. These 2 curricula have been completely updated to provide step by step instructions using either Mastercam X4, X5 or X6. Both the earlier versions of the curricula as well as the newer versions will be available to instructors for free for the rest of the year (till June 30, 2013) by registering online.
The Introduction to CNC Machining provides a comprehensive curriculum that includes a brief history of manufacturing, history of CNC, introduction to GCODES, introduction to Mastercam, fixturing and clamping material on the CNC machine and running parts on the CNC.
The Introduction to CNC Plasma Cutting covers all of the same basic CNC skills and it also includes a chapter on the science of plasmas – what are they, how are they created and how are they used in cutting. In addition, chapters on the safety issues associated with plasma cutting, controlling cut quality and maximizing the life of torch consumables leave the student ready for independent machine operation.
Both curricula provide step by step instructions as well as numerous photos detailed descriptions of what to do and how to do it. The curricula are ideal for students first getting involved with CNC machining, Mastercam or CNC plasma cutting.
These curricula are also ideal aids for the instructors first getting involved with CNC.
The curricula are, of course, still available for purchase for unrestricted use without time limits. A class license with permission to reprint copies is also available.
Receive additional information on Educational CNC Machines and Curricula on our Web site: http://www.techedcnc.com, or call to speak with an Application Engineer at 1-516-328-3970.
NOTE TO EDITOR: Obtain this release by using the link below to download a .zip file containing a PDF and high-resolution .jpg file. Download Press>> Hi-res. JPG file and PDF Document.
Educational Division
2101 Jericho Turnpike
New Hyde Park, NY 11040
Phone: (516)328-3970
Fax: (516)358-2576
Email: gklein(at)techno-isel(dot)com