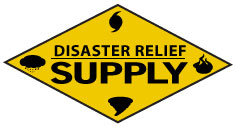 Destin, FL (PRWEB) January 07, 2013
Disaster Relief Supply, an emergency supplies retailer and supplier based out of Destin, FL, is known nationwide for providing quality emergency and disaster relief products to preparing consumers. Recently, DRSupply has supplied portable generators to emergency relief organizations for the Caribbean, Central America, and South America. This act marks a new milestone in the retailers business that started in November 2011.
Large order fulfillment was an eventual goal of the small business when they opened their doors and activated the URL for disasterreliefsupply.com back in 2011. After building worldwide connections with manufacturers for products like generators, water filtration & storage, food, oil absorbents, protective gear, tents, and more, Disaster Relief Supply has now started to supply these emergency supplies in large quantities to both US and International organizations.