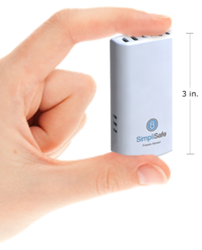 Satisfied SimpliSafe customers nationwide can now add "frozen pipes," "furnace malfunctions," and other home climate concerns to the long list of things they no longer have to worry about.
Boston, MA (PRWEB) January 15, 2013
As winter tightens its grip and the days and nights get colder, SimpliSafe is happy to announce the latest addition to its suite of wireless home security features: the freeze sensor. All homeowners are familiar with the headaches that come along with frozen pipes - plumbing and property damage, expensive repair bills, and tons of hassle during an already busy season. A SimpliSafe freeze sensor sends out an alert whenever the ambient temperature falls below 41° F, leaving plenty of time to head off a potential pipe disaster.
Like all SimpliSafe sensors and detectors, the freeze sensor uses wireless technology to provide customers with several layers of redundancy in the event of an emergency. Any time the in-home temperature hits the 41° limit, an alarm emits an audible siren. Monitoring plan subscribers are also alerted via a phone call from the dispatch center, and receive a detailed "freeze alert" via SMS, text, or email. "Unlike local-only freeze alarms, a monitored freeze sensor lets our customers keep tabs on their property whether they're right in the doorway or halfway across the world," explains Chad Laurans, CEO of SimpliSafe. "Customers who install one in their basement can head off on vacation worry-free — if the furnace malfunctions while they're gone, they will hear from our dispatch center right away, and can take appropriate steps to address the situation. They'll solve their winter worries without changing out of flip flops."
With a freeze sensor installed, customers with SimpliSafe online accounts can also check their home temperature in their online dashboard. Temperature readouts update hourly, and make for a simple, one-click way to keep track of home climate from anywhere. Customers can use temperature reporting to keep an eye on climate-controlled storage spaces, track how well their backyard greenhouse is holding in the heat, or check in with far-off vacation homes in order to prevent problems before they occur.
Each SimpliSafe Freeze Sensor is a breeze to install and easy to add to the fully integrated SimpliSafe system. The sensor has a 5-year battery life, and is powered by lithium batteries, which function well at very low temperatures (most competing sensors use alkaline batteries, which don't work as well in the cold). Like all SimpliSafe products, the freeze sensor is sold directly to consumers online. For more details and a lineup of all available sensors, visit http://SimpliSafe.com/home-security-shop.
About SimpliSafe Home Security
SimpliSafe is a simple, secure and complete do-it-yourself security system. Using entirely wireless, cellular components, the alarm system can be easily customized and installed by a homeowner or renter. SimpliSafe also provides nationwide alarm monitoring services for their wireless security systems. Learn more about SimpliSafe's features here.