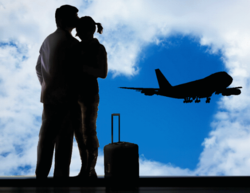 "Airports can be great venues for meeting successful, affluent and attractive people. Some of the most desirable travelers are sugar babies and sugar daddies
New York, NY (PRWEB) January 09, 2013
The first dating website whereby users connect using their flight details, MeetAtTheAirport.com is quickly taking off with travelers who are looking for love or other interesting connections at hubs all around the world. When asked whether his new site would appeal to members of Sugardaddie.com, Pasternack says the concept is a natural fit for them.
"Airports can be great venues for meeting successful, affluent and attractive people. Some of the most desirable travelers are sugar babies and sugar daddies," says Pasternack.
A Sugardaddie.com poll of 1,000 members found that sugar daddies and sugar babies travel by air more than the average person. 65% of sugar daddies polled said that they fly more than twice each month.
Michelle Vasquez, a 25 year old international flight attendant, says that being a sugar baby fits well with her occupation. "I've been able to meet some very sophisticated men from all around the world. I enjoy having sugar daddy relationships in large part because they're quite easy to manage with my work schedule," she says.
Both Sugardaddie.com and MeetAtTheAirport.com have caught on with users from all around the world in search of relationships, networking, and fun.
###
About Sugardaddie.com:
Launched in 2002, Sugardaddie.com is the original online meeting place for sugar daddies and sugar babies, and boasts more members than any other sugar daddy site. Sugardaddie.com has been featured by numerous media outlets including ABC Nightline, The Dr. Phil Show, The Huffington Post, The Today Show, CNN and many more.
About MeetAtTheAirport.com:
Created by the founder of Sugardaddie.com, MeetAtTheAirport.com is a pioneering dating and social networking website that connects travelers at airports. Since being featured on CNN 3 weeks ago, MeetAtTheAtAirport.com has gained a record breaking 30,000 members.