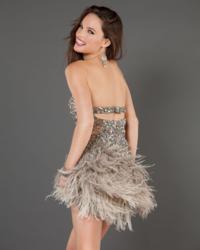 New York, New York (PRWEB) January 07, 2013
What better way to celebrate the New Year than with a new dress from Jovani Fashions. The New York-based fashion house is giving their most loyal fans a chance to look glamorous this year in one of Jovani's newest designs for 2013.
Jovani's "Become a Star" contest allows fans to post photos of themselves in some of Jovani's most fabulous creations for their chance to win a free dress up to $1,000. From unique prom dresses to glamorous gowns fit for a Military Ball, each and every Jovani dress is made for special moments that will be remembered for years to come.
For the entire month of January, Jovani will gift 5 lucky winners a Jovani dress up to $1,000. To enter into the "Become a Star" fan page contest, Jovani fans must submit a photo through their official website Jovani.com. The first 500 contestants will be entered for a chance to have their photo on the Jovani website where fellow Jovani lovers can vote for their favorite. Only photos of applicants in Jovani dresses will be accepted. Each week, a winner will be chosen based on how many votes their photo has received. Not only will they win a gorgeous Jovani dress, but they will have their photo featured on the Jovani.com homepage and the Jovani Fashions "Fabulous Fan Photos" Pinterest board. With over 15 million visitors to Jovani.com, each and every fabulous fan rocking an amazing Jovani dress will have the chance to become a superstar.
The New York-based fashion house is excited to get this contest underway. Their dazzling designs are known and highly-regarded all over the world. From Kansas City to Egypt, Jovani has made their mark as a top evening wear designer that caters to all types of women. Their versatility has made the fashion house perfect for events like the Academy Awards, to more casual events like a New Year's Eve bash where Jovani's party dresses will have you looking like a star all night long. When women choose Jovani for their special event, they are guaranteed to make a red carpet statement wherever they go.
Jovani Fashions combines classic glamour with the newest trends to create some of the most dynamic dresses available worldwide. With the most luxurious fabrics and hand-sewn embellishments, the dress designer prides itself on making sure that their customers are always best dressed.
Company
Jovani Fashions creates one-of-a-kind gowns perfect for every special occasion. The New York-based fashion house dominates the international market with their signature prom styles and dynamic evening wear designs. Selling in over 3,000 retailers worldwide, including major department stores like Bloomingdales and Neiman Marcus, Jovani continues its mission to make every women be best dressed.
Contact: Felicia Garay-Stanton
Phone: (212)279-0222
###