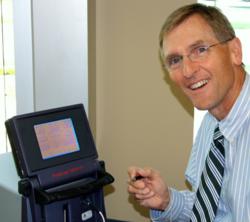 Richardson, TX (PRWEB) January 08, 2013
Dr. Kerry M. Goad warns patients of the various dangers surrounding dental periodontal disease, especially recent studies which link gum disease to dementia.
According to a U.S. study, people who brush regularly and keep their gums and teeth healthy will have a lower risk for dementia later in life. Annlia Paganini-Hill, who led the study, which was published in the Journal of the American Geriatrics Society, also reported that some studies discovered that people with the most common form of dementia, Alzheimer's disease, have more gum disease-related bacteria in their brains than a person without Alzheimer's.
These studies lead them to believe that bacteria from gum disease are getting into the brain, causing inflammation and brain damage. The statistics revealed that people who don't brush their teeth daily have a 65 percent increased chance of developing dementia than those who brush their teeth daily. Although there is a direct connection, the study did not prove that people who brush their teeth daily absolutely won't get dementia.
Gum disease is linked to problems other than dementia such as diabetes, stroke and respiratory issues. Brushing and flossing daily to prevent gum disease not only improves your oral health but can prevent bigger health issues in the future. Maintaining a relationship with your dentist and getting regular cleanings is crucial in maintaining good oral health. Visit Dr. Goad's website today to learn more about the risks and treatments of gum disease.
Goad Dental is a general practice offering patients personalized dental care for Richardson, TX. Dr. Kerry M. Goad received his Doctor of Dental Surgery (DDS) from Baylor College of Dentistry in Dallas, Texas. He completed advanced training in restorative dentistry at the L. D. Pankey Institute in Key Biscayne, Florida, and is part of one percent of dental professionals providing the most recent FDA cleared laser procedure for gum disease and periodontal treatment. To learn more about Goad Dental and their dental services visit their website at http://www.dallasgumsurgery.com and call (972) 690-6653.