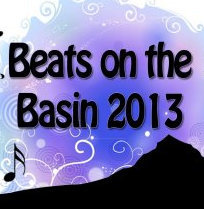 Santa Fe, New Mexico (PRWEB) January 04, 2013
Beats on the Basin at Ski Santa Fe is a concert series that supports the Santa Fe Adaptive Ski Program, a non-profit organization dedicated to providing alpine ski & snowboard lessons for adults & children with disabilities. The first in the series features 'Beats DJ Spectacular' with top Santa Fe DJ's and talent bringing hot licks to the slopes for everyone to enjoy. A daily lift ticket or season pass is all that is need to pay the cover charge for the season's series of exciting afternoon coverts. This event is featured on the event calendar of SantaFe.com, Santa Fe's premier on-line visitor guide. Below is the list of dates schedule for 'Beats on the Basin 2013'.
2013 'Beats on the Basin' Lineup:

January 5: Blu 102.9 DJ Spinathon – Dj's Dynamite Sol, John Sherdon and Jim Stephens
February 2: Detroit Lightning – A Dylan & the Dead Project.
February 9: Man No Sober
March 2: Hot Club of Santa Fe
March 16: Crazy Fool
March 30: Jeff Gladfelter Memorial Race: TBD
About Ski Santa Fe:
The Mountain and Runs
12,075 foot summit
1,725 vertical feet of skiing
660 acres of stunning terrain
77 trails (20% easiest, 40% more difficult, 40% most difficult)
Longest run: 3 miles
Services -
PSIA Certified Ski School
Chipmunk Corner Children's Center
"The Bone Yard" Freestyle Terrain Park
Children's Adventure Land
Snowfall -
Average snowfall: 225 inches
Snowmaking: 50% of the mountain
Lifts -
Tesuque Peak Triple Chair
Santa Fe Super Chief Quad Chair
Sierra Chair
Easy Street Beginner Chair
Millennium Triple Chair
Pine Flats Conveyor Lift
New Chipmunk Corner Conveyor Lift
Lower Mtn. lift hours 9 am to 4 pm
Upper Mtn. lift hours 9 am to 3:45 pm
Capacity: 9350 skiers per hour
Physical Address -
The Ski Area is located at the end of New Mexico State Highway 475. It begins at #100 Artist Road, in Santa Fe, New Mexico. For Google maps use Santa Fe Recreation Area, Santa Fe, NM 87501
Winter Season -
Typically Thanksgiving to Easter (Tentative opening date November 22, 2012 and tentative closing date is April 7, 2013)
Contact Information:
Ski Santa Fe
Ski Area: 505-982-4429
Snow Report: 505-983-9155
Chipmunk Corner Children's Classes and Daycare: 505-988-9636
Request free brochures on programs or group rates and the company will email them.
About SantaFe.com:
SantaFe.com provides locals and visitors to Santa Fe alike the most current interactive platform for events, music, arts, business, dining and lifestyle. SantaFe.com is a division of Hutton Broadcasting, located at 2502 C. Camino Entrada, Santa Fe, NM 87507
Contact Information:
Scott Hutton
SantaFe.com / Hutton Broadcasting
http://www.santafe.com
(505) 471-1067 (Media inquiries only, please)