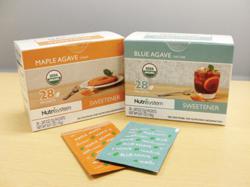 Not only do these two low glycemic sweeteners fit perfectly within the Nutrisystem® program, both are delicious, organic and help cut down on sugar calories.
San Diego, CA (PRWEB) January 07, 2013
Nature's Agave Inc. and Nutrisystem, Inc. today announced the collaborative launch of premium organic agave sweeteners in single-serving packets. Branded for Nutrisystem, a leading provider of weight management products and services, the packets are available in two varieties, including Blue Agave Nectar and Maple Agave Syrup. The single-serving organic sweeteners are conveniently portioned to a teaspoon, equaling 1 Nutrisystem extra serving, and are offered in 28-pack boxes now available in Nutrisystem's online store.
The new product additions further emphasize Nutrisystem's commitment to expand its variety of healthy, low glycemic foods and meal plans designed to help members manage and simplify their goals of losing weight. While awareness of the benefits of agave nectar have become more popular with health-conscious consumers and chefs, premium agave products can be challenging to find, and difficult to determine the differences between brands. The Nutrisystem packets have now made it easy to enjoy these premium sweeteners at home, at the office or on the go.
"Not only do these two low glycemic sweeteners fit perfectly within the Nutrisystem® program, both are delicious, organic and help cut down on sugar calories," said Bruce Daggy, Chief Science Officer at Nutrisystem. "Our counselors heard from our members that they wanted help finding good choices when it comes to choosing sweeteners and dressings that work with the program. So we've done the research and are proud to now offer our members these new premium organic sweeteners as a new enhancement to their Nutrisystem program."
The Blue Agave Nectar, which is amber in color, and exhibits a slightly nutty sweetness with hints of caramel and vanilla, is perfect to sweeten tea, drizzle over yogurt, or as a sugar replacement in recipes. The Maple Agave Syrup is made from organic, raw Blue Agave and organic maple flavor, offering a rich maple syrup taste. Unlike regular maple syrups, the Maple Agave Syrup is low glycemic and sweeter to the taste, making it the ideal choice for avoiding blood sugar spikes and lowering sugar calories, without sacrificing taste. Since both varieties are 1.4 times sweeter than sugar, less is needed, cutting calories.
About Nature's Agave, Inc.
Nature's Agave Inc. is an organic food and beverage company with a passion for delicious and healthy foods. Based in Encinitas, Calif., Nature's Agave promotes healthier nutrition through a variety of distinct and delicious organic agave-based products, including its line of premium agave nectars, dry agave sweetener, and agave inulin fiber. The company also supplies agave-based ingredients to foodservice and food and beverage companies. Please visit http://www.naturesagave.com to learn more about the company, locate specific retailers, and discover an assortment of delicious and healthy recipes for smoothies, main dishes, desserts and more!
Web: http://www.naturesagave.com | Twitter: @NaturesAgave | Facebook: facebook.com/NaturesAgave
About Nutrisystem
Having helped Americans lose millions of pounds over the last 40 years, Nutrisystem, Inc. develops evidence-based programs for healthy weight management, and is the leading provider of home-delivered weight loss meal plans. Nutrisystem offers balanced nutrition in the form of low glycemic index meal plans designed for men and women, including seniors, vegetarians and the Nutrisystem® D® program for people with diabetes or at risk for type 2 diabetes. Nutrisystem® plans include a wide variety of pantry and frozen entrees and snacks to aid in program satisfaction and adherence, as well as transition plans to support long-term success. The Fort Washington, PA-based company also provides weight management support and counseling by trained weight-loss coaches and registered dietitians, as well as through an engaged online community, online tools and trackers, mobile apps, cookbooks and more. Healthcare professionals may learn more about the programs by visiting http://www.nutrisystem.com/hcp. Nutrisystem® weight loss plans are available directly to consumers through http://www.nutrisystem.com, by phone (1-800-435-4074) and at select retailers. The Company has also introduced a new in-store retail line, Nutrisystem® Everyday® products, comprised of nutritionally balanced bars, smoothies, bakery and breakfast items aimed at consumers who aspire to eat healthier.