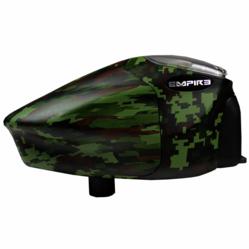 Best paintball hopper on the market period!
Morgan, Utah (PRWEB) January 05, 2013
It's here, the latest Empire hopper and the latest SE color for the Z2 Loaders/hoppers. The Empire Prophecy Z2 Paintball Loader maintains peak performance by continually monitoring drive force, rate of fire, and will automatically clear a jam before you have a chance to miss that perfect shot.
In the blink of an eye, The Empire Prophecy Z2 will have performed more sensor readings to monitor its performance than any other paintball loader ever created. It's the most advanced, easiest to use feeding system ever designed. Made of super strong-reinforced composites combined with its ultra-lightweight design and low profile, the Z2 will supercharge every player's game. This Special Edition loader with a white shell is a sound activated, variable speed, force-feed paintball loader. Infrared sensors provide automatic ball jam detection and automatic clearance. It has redesigned drive carrier for consistent and faster feeding as well as a low profile and lightweight shell design. No tools are needed for assembly and dis-assembly of the paintball loader. The paintball loader has an integrated one-piece feed neck for durability, and a simple ON/OFF toggle switch with push button forward and reverse, and includes a built-in Rip Drive™ System for manual drive control. RF (Radio Frequency) upgradeable with the Empire RF Transmitter Kit and has a capacity of approximately 200 paintballs.
For more information visit:
http://www.actioncenterpaintball.com
http://www.paintballguns.tv