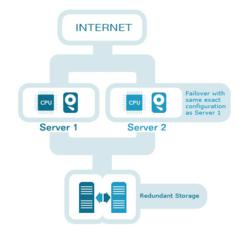 Traditionally, if you wanted the benefits of virtualization, you had to look at a virtual server or service offering that required technical resources to manage that server.
Vancouver, BC (PRWEB) January 08, 2013
Canadian Web Hosting (http://www.canadianwebhosting.com), the leading provider of web hosting and infrastructure services in Canada, today announced the extension of its Shared Cloud Web Hosting services by launching new Linux- and Windows-based Cloud Shared Hosting services that give shared hosting customers improved reliability, industry leading virtualization and capabilities of more expensive cloud-based solutions without the cost and challenges of managing their own virtual server.
In combination with their SSAE 16 Type II (formerly SAS70) certifications, Canadian Web Hosting's Cloud Shared Hosting solutions address the needs of small businesses and web hosting users who have high uptime requirements, want the benefits that cloud virtualization can provide, but want the ease of a shared hosting environment including use of cPanel or Plesk control panels. With Shared Cloud Hosting, Canadian Web Hosting becomes the first Canadian web host to offer shared hosting built on top of VMware giving its customers a unique advantage. Starting as low as $12.00 per month, Canadian companies of all sizes can now leverage on-demand cloud shared hosting, automatic failover, resource distribution and the reassurance that their sites will remain online avoiding many common issues associated with Shared Hosting.
Unlike traditional shared hosting plans that are built on top of a single dedicated server, Shared Cloud Hosting uses clusters of enterprise-grade Dell Servers that utilize hardware-based SANs for maximum performance. When combined with enterprise-grade VMware virtualization, customers have the protection of redundant hardware failover, the simplicity of shared hosting, and can be assured that all customer data will remain in Canada. Each Shared Cloud Hosting plan, current and new clients, will get highly redundant dedicated server and networking components that yield a higher-level of performance and availability for their critical infrastructure, automated backup services, easy 1-click application installations and immediate access to the control panel of their choice. This is something that is not always possible in typical Public Clouds today especially for shared hosting."
"Whether it is Linux or Windows, our Cloud Shared Hosting plans are a game changer for Canadian customers and businesses. Traditionally, if you wanted the benefits of virtualization, you had to look at a virtual server or service offering that required technical resources to manage that server. More importantly, many of those same services are located in a country that doesn't allow customers to meet their privacy requirements with their cloud-based data," said Matt McKinney, Director at Canadian Web Hosting. "Unlike some of our competitors who use third party resources, our Cloud Shared Hosting plans were built from the ground up using proven Six Sigma methodologies that incorporate the voice of our customer. We recognize that security and geography are just as important as the technology. Our plans are tailored specifically for customers looking for the simplicity of a shared hosting environment, and want to utilize the benefits of a cloud environment where features like automatic failover and geographic control are included. We've recognized from day one that not every customer has the resources to invest in expensive hardware or complicated load-balanced, multi-server configurations. We want to make the benefits of the cloud available to everyone and lower the short- and long-term costs to get access to enterprise-grade cloud hosting services."
Canadian Web Hosting's certified support teams can help manage the servers 24/7 and every server that includes cPanel or Plesk with regular backup snapshots to help keep data protected and scalability with unlimited email and storage. In addition, customers get the ability to one-click install many leading applications like Joomla, Drupal, Wordpress, MySQL and many more.
About CANADIAN WEB HOSTING Hosting
Since 1998, Canadian Web Hosting has been providing on-demand hosting solutions that include Shared hosting, Virtual Private Servers (VPS), Cloud Hosting, Dedicated Servers, and IT as a Service for Canadian companies of all sizes. Through the use of innovative technologies and experienced support personnel, they continually focus on helping each customer by offering configurable solutions that are tailored to their exacting business requirements. As a company, Canadian Web Hosting maintains a SSAE16 Type II certification which guarantees 100% network availability, and a total money back guarantee that backs everything they do. Customers can get help by calling 1-888-821-7888 to get basic support. For more advanced technical support, customers can use email, ticketing or real time live chat support with support staff.
For more information, visit them at http://www.canadianwebhosting.com, or get the latest news by following them on Twitter at @cawebhosting and Facebook.