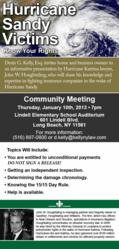 Long Beach, NY (PRWEB) January 06, 2013
On Thursday, January 10th, 2013, insurance litigation specialist John W. Houghtaling will present crucial information that every home and business owner needs to know to protect themselves when filing a claim. Houghtaling has built a prominent career from battling insurance companies on behalf of home and business owners, and knows how they manipulate the system to the policy holders' disadvantage.
Houghtaling, who recently spoke before residents of Huntington, NY and the Village of Freeport, NY, was invited to speak in Long Beach by attorney, homeowner, and former Long Beach City Council Member Denis G. Kelly. He will detail the important points every property owner should understand in the wake of Hurricane Sandy, including why property owners: (1) Are entitled to unconditional payments, (2) Should get an independent inspection, (3) Must take careful note of disaster chronology, (4) Need to know the 15/15 Day Rule, and (5) Have the option of asking for help untangling the insurance companies' red tape.
Event Details
Date: Thursday, January 10th, 2013
Time: 7:00pm
Venue Location: Lindell Elementary School, 601 Lindell Blvd., Long Beach NY 11561
Invited: Open to the Public
Links:
[Video] John Houghtaling re: Katrina Insurance Litigation, WWL I-News (8/21/06): http://www.youtube.com/watch?v=oofFSEqJ6D4
[Video] John Houghtaling re: Katrina Legal Claims, WWL Morning News (8/06): http://www.youtube.com/watch?v=HrWMVp2e1N4
[Video] John Houghtaling re: Katrina Lawsuit Deadline, WDSU (8/06): http://www.youtube.com/watch?v=OoDZegDBCT0
About John W. Houghtaling:
John Houghtaling is managing partner and majority owner of Gauthier, Houghtaling and Williams, the law firm that paved the way to the $358 billion dollar U.S. tobacco settlement in 1998. The firm, which has offices in New Orleans and Houston, specializes in insurance litigation; Houghtaling concentrates on disaster recovery law. In 2005 he was hired by the Attorney General of Louisiana to protect policyholder rights in the wake of Hurricane Katrina. Over the years, he has garnered settlements and verdicts of over $200 million for his individual clients, including over $100 million dollars for property owners following Hurricanes Ike and Katrina. In response to the BP Horizon Oil Spill in 2010, Houghtaling teamed with business partner and actor, Kevin Costner, to promote new technology to combat environmental damage to the Gulf of Mexico. For the last six years, he has ranked as one of CityBusiness Magazine's top 50 lawyers in New Orleans; he was also named Louisiana SuperLawyer in 2010 through 2012. Houghtaling chairs numerous charitable fundraising campaigns, including raising over a million dollars in 2012 for the Harris County Sheriff's Office Foundation.