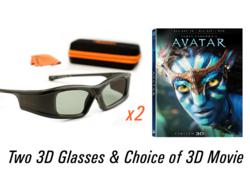 The friendly Dimensional Optics staff was able to help me get everything I needed to watch 3D TV.
San Luis Obispo, CA (PRWEB) January 08, 2013
Dimensional Optics makes it easy for online shoppers who are looking to provide their family with the very best in 3D home entertainment by offering Starter Packs that bundle 3ACTIVE® 3D Glasses with a choice of a Blu-ray 3D™ disc.
The 3D Movie choices available in the Starter Packs cover a wide variety of genres and include the incredible blockbuster, Avatar, to the family friendly hits, Rio and Ice Age. Other available titles include the science fiction thriller, Prometheus, and James Cameron's Titanic.
Blu-ray 3D™ titles are now available individually at the DimensionalOptics.com Blu-ray 3D™ store or as Starter Packs bundled with premium 3ACTIVE® 3D glasses.
The Starter Pack is available for the following brands of 3D TV's: Samsung®, Panasonic®, Sharp®, Mitsubishi®, LG®, Sony® and DLP® Link™ TVs & Projectors.
Spend Less. See More.® with Dimensional Optics.
Dimensional Optics' 3ACTIVE® 3D Glasses are designed to be more than a 3D TV accessory. We have used our many years of eyewear frame design and high-performance optical lens development to build 3D Glasses that improve the 3D TV Consumer's viewing pleasure and experience. Providing quality at an affordable price is the best way to being introduced to the excitement of 3D entertainment.