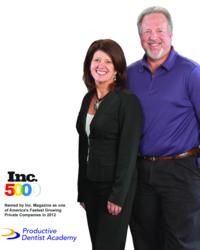 Rapid growth provides opportunities to rethink your processes
Anacortes, WA (PRWEB) January 09, 2013
Productive Dentist Academy (The Academy), a marketing and management services company for dentists, recently announced their new relationship with Rich Bloomfield, its new Chief Financial Officer. Now located in Washington State, the dental-management consulting company has become one of the nation's fastest-growing small businesses and was ranked 245th on the Inc. 500/5000 fastest-growing list in 2012 under the health industry category. It experienced an astonishing 73 percent growth in revenues during the previous three years.
"Rapid growth provides opportunities to rethink your processes," said Vicki McManus, COO for The Academy. "For us, we have outgrown our original business structure and need the input of a highly effective CFO. Bringing Rich Bloomfield on as part of our management team provides the structure we need to expand our business into multiple markets across the country."
Productive Dentist Academy has three primary divisions: seminars/team training, dental management consulting, and dental marketing implementation. These three distinct areas overlap and combine to provide clients with a seamless solution to their top operational and revenue-producing challenges.
Dr. Bruce B. Baird, who is CEO and founder of The Academy, shares a common vision for the dental industry with McManus.
"In our opinion, dentistry is poised to do more good than ever," Baird said. "The challenge for dentists is balancing their workload with their stress load. That is where The Academy can make a major contribution."
Because of The Academy's unique focus on being member built and driven, member dentists can customize their experience and level of service and relationship. As Dr. Baird puts it, "We want to always grow in response to client requests. From start-up to retirement, we've expanded our dental management team to tackle the tough challenges of dental entrepreneurs."
About Productive Dentist Academy:
Founded in 2004, Productive Dentist Academy is a leading provider of dental-productivity seminars and dental-marketing services. It has worked with more than 1,200 private-practice owners throughout the United States. It is a privately held company owned by Dr. Bruce Baird (CEO) and Vicki McManus (COO). It also helps dentists begin the process of preparing their practice for transition. The Academy consists of a team of consultants in the areas of hygiene, public relations, dental marketing, insurance/PPO negotiation, and other major fields of dentistry. Its team helps dental practices execute agreed-upon plans to increase productivity, profitability, team building, improved service mix, hygiene department development, and more, providing continuing education to licensed dentists and their teams. The dental-marketing company got its start in Texas, but is now headquartered in Anacortes, Wash.
About Rich Bloomfield:
Rich Bloomfield, CPA, is a successful corporate leader with over 25 years of management responsibility and direct experience in operations, business mergers and acquisitions, real estate management and finance, and estate and income tax planning. After the founding and successful sale of a start-up company in 2000, he founded Bloomfield CFO, PLLC to provide strategic financial direction to entrepreneurs in small and medium sized businesses. In that capacity, Mr. Bloomfield arranged for and completed several M&A transactions for client companies totaling in excess of $100 million. Bloomfield began his career at a Big Four public accounting firm in 1981. Prior to that he earned a Masters of Accounting (Tax Emphasis) from Brigham Young University where he graduated Magna Cum Laude.