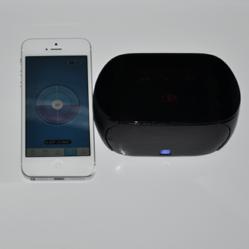 Excellent sound portable Bluetooth speaker with Touch-control panel
Shenzhen, China (PRWEB) January 09, 2013
Esorun Technology has released a new product, called Touch Control Bluetooth speaker. It got very hot in the market for music lovers.
This Bluetooth speaker from Esorun has many features but the most important one that differs it from existing Bluetooth speakers is its luminous touch control design by abandoning the traditional keys.
Firstly, excellent sound effect is the basic feature for a speaker, which is achieved by using a CSR chip, just like Esorun's other Bluetooth loudspeakers. As an international brand, the CSR chip always gives Bluetooth speakers perfect sound performance.
Also an internal microphone for answering incoming calls makes it multifunctional when the user is not free, for example driving or cooking. This function is really practical and humanistic.
Finally this stylish speaker is not only for new Bluetooth devices, as it also can be connected via an auxiliary input wire to play music. It indicates it can be compatible with any music device at home or outside. With the built-in rechargeable battery, all these advantages make this speaker unique.
Customers have expressed interest in using Esorun's Touch Control Bluetooth speakers for conference calls as well as standard phone calls and music playing. Whatever the motivation for purchasing a product like Touch control Bluetooth speakers, it serves as an innovative product for both business and personal customers.
About Shenzhen Esorun Technology Co. Ltd
Shenzhen Esorun Technology Co. Ltd. is a professional technology company that provides a wide range of iPhone and iPad accessories, and other gadget accessories such as power banks,carbon fiber cases, wireless hard drives, Bluetooth speakers, fly mouse products and more. For more information, contact George Jiang at sales(at)esorun(dot)com.