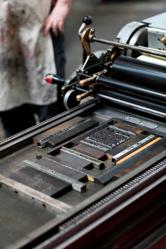 "I love letterpress. It looks beautiful and it just feels good — I love to run my fingertips over the indented impressions set on thick, luxurious paper," Geek Girl.
San Francisco, CA (PRWEB) January 04, 2013
Love the look and feel of letterpress printing? Make this the year to learn the craft of artisan printing on vintage Vandercook presses at the San Francisco Center for the Book. The quality of letterpress printing and hand-set type is like no other. Create printed artwork, invitations, posters, or your own books of prose or poetry.
This series of workshops covers typesetting and printing on a Vandercook cylinder press using metal type, wood type and photopolymer plates. Participants will have the opportunity to work on their own projects as well as create collaborative works with other students. Learn advanced typesetting and press lock-up, ink mixing, multiple-color registration, and the basics of press mechanics. This workshop qualifies attendees to rent time on the San Francisco Center for the Book's Vandercook presses.
Printing on a Vandercook Cylinder Press: Core Curriculum is part of the San Francisco Center for the Book Letterpress Certificate Program. To receive the Letterpress Certificate, students must complete Letterpress Printing on a Vandercook Cylinder Press, Photopolymer Platemaking Lab and Advanced Letterpress: Production Printing.
Advantages of participating in the SF Center for the Book Letterpress Certificate Program:

Access to the best letterpress facilities and instructors on the West Coast;
Collaboration and interaction with other eager letterpress students;
Knowledge of the essentials of traditional letterpress printing;
A beautiful letterpress-printed completion certificate;
Discounts on class registration and studio rental for certificate holders and students enrolled in the certificate program;
Five hours of free studio rental;
Opportunity to participate in exhibitions in the Austin/Burch Gallery;
The satisfaction of knowing how to make to make a darn good letterpress print!
Printing on a Vandercook Cylinder Press Workshop with letterpress expert Leigh McLellan is a nine session letterpress class that takes place Monday evenings from 6:30 – 10;00, January 21, 28, February 4, 11, 25, March 4, 11, 18, and 25. This workshop will take place at the new location of the San Francisco Center for the Book at 375 Rhode Island Street, San Francisco, CA 94103
For more information or to register for "Letterpress Printing on a Vandercook Cylinder Press" click here.
About Leigh McLellan
Leigh McLellan has been printing since 1974. Her work is widely exhibited and collected by many libraries and individuals. She has taught letterpress printing, bookbinding, decorated papers and typography at Mills College, CCAC and elsewhere.
About the San Francisco Center for the Book
The San Francisco Center for the Book fosters the joys of books and bookmaking, the history, artistry, and continuing presence of books in our culture and enduring importance as a medium of self-expression. We provide both a home for Bay Area book artists and a place where the wider community can discover book arts. Everyone is welcome here, experienced practitioners and newcomers alike.
Over 300 workshops annually offer learning at all levels: from introductory to focused advanced courses spanning traditional bookbinding, cutting-edge printing techniques and experimental book forms.
Exhibitions are designed to inform and inspire visitors. Free public programs include opening receptions for the exhibition program, poetry readings, book release parties for our publications, gallery talks, Open Houses and other community events like the annual Earth Day Extravaganza and Roadworks Street Fair.