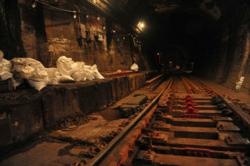 ...it advised all Sandy victims to prepare a rust removal spray and start a rust inspection.
Seattle, WA (PRWEB) January 07, 2013
Sandy left the flooded R Train tunnel with a mark that is hard to miss. Based on a report from silive.com, the hurricane left it with a severe rust problem. And anticipating that corrosion could also be a problem in Sandy swamped houses and establishments, Rusty Cage advised the hurricane victims to get ready a green rust removal solution and start inspecting the soaked items.
As it was said in the report, the R Train tunnel in downtown Manhattan was submerged two months ago by Hurricane Sandy's tidal surge. And that submersion caused rusting in it, particularly in its ceiling, which indicates just how high the water level reached.
To show the rust problem that the flooding caused the said tunnel, the report related that the Metropolitan Transportation Authority released photos of it last December. In one photo, the rusty ceiling of the tunnel could be clearly seen.
But according to Rusty Cage, the tunnel was not the only area flooded by Sandy. Many residential and commercial regions in the east coast were also submerged by the hurricane. And given that moisture is the one that triggers corrosion, it said that houses and establishments in those places could also be rust invaded.
Despite the fact that Sandy happened already two months ago, the website said that flooded items or anything next to it could have absorbed moisture and by now have caused rust development. With that possibility, it advised all Sandy victims to prepare a rust removal spray and start a rust inspection.
Nonetheless, Rusty Cage said that one must use a green rust remover to ensure that the rust removal process is safe apart from effective. And given that Rusterizer is organic-based, it recommended the use of it to the Hurricane Sandy victims. However, before buying the product, the site encouraged shoppers to try it first. It shared with them a link where one could get a complimentary sample of the green rust remover.
Shoppers Could Get the Complimentary Sample of Rusterizer at MyCleaningProducts.com.