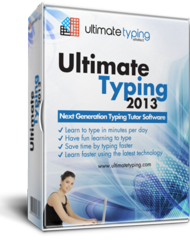 ...the review can be summed up as an unreserved recommendation of the Ultimate Typing™ software package for all typing beginners.
New York City, NY (PRWEB) January 11, 2013
Weeks after the official launch of Ultimate Typing software, the first incoming reviews suggest a promising future for the software. Another expert software reviewer, Noline, has given a detailed review on the site Squidoo of Ultimate Typing™ and the review can be summed up as an unreserved recommendation of the Ultimate Typing™ software package for all typing beginners.
This review is one of the first typing software reviews Ultimate Typing™ has received. The review focuses on how the software developers managed to provide a comprehensive typing aid tool to those wishing to improve their typing level. According to the reviewer, the software doesn't have a limited focus on typing speed, as most typing software does. Thanks to its cutting-edge technologies, Ultimate Typing™ offers an all-inclusive learning experience to learners. She notes that Ultimate Typing™ caters to various aspects of typing aspects, including accuracy, speed, keyboard knowledge, ergonomics, and goal-setting and achieving. Taken all together, this practically guarantees a successful outcome for this training in touch typing.
The review is particularly focused on how the software emphasizes the importance of correct posture and hand placement for facilitating the learner's typing performance. The reviewer mentions that thanks to the detailed and useful instructions the software has given her, she was able to adopt effective typing habits and thus notice great improvement in her typing speed and accuracy.
Ultimate Typing™ manages to take care of all possible aspects of typing, making sure all previous, non-professional habits are replaced by the latest, more efficient typing methods and practices. The step-by-step instructional videos are also approved by the reviewer, who emphasizes that these video tutorials make learning to type a guaranteed success.
This user review doesn't exclusively focus on the software's benefits, and the reviewer mentions how the software could be even better if the license purchased could be used in more than a single computer. Other than that point, her final evaluation of Ultimate Typing™ is that it is a well-structured and highly efficient tutor typing software which improves a user's typing speed and accuracy with little practicing.
For more information on how Ultimate Typing™ can improve your typing speed and accuracy please visit the official website http://www.ultimatetyping.com.
About Ultimate Typing™
Ultimate Typing™, is an advanced typing tutor software that offers incomparably sophisticated typing strategies.
Ultimate Typing™ is based on the latest research and scientific developments about efficient typing. With as little as 7 minutes a day, aspiring fast typists can substantially improve their typing accuracy and speed.
With its user-friendly and expert-designed activities all users can improve their typing. Accurate typing is possible thanks to Ultimate Typing™. Plus, eReflect provides a money-back guarantee that cannot be matched.