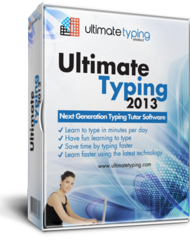 ...in a program designed to teach users how to learn to type is essential to have straightforward and relevant activities to practice with.
New York City, NY (PRWEB) January 12, 2013
Expert software review website Boffin has reviewed Ultimate Typing™ and has concluded that Ultimate Typing™ is the most effective system available for improving typing skills in ways that are immediately felt in terms of productivity and work performance.
Boffin's website lists the advantages of Ultimate Typing™ in comparison to all other software reviewed, arguing that its user-friendliness, engaging activities, and instruction quality are aspects of the software that make it stand out. He suggests that the step by step video tutorials provide an asset not many other typing software systems have, which immediately gives Ultimate Typing's™ software an edge. In addition to its high instructional quality, Ultimate Typing™ also has very easy to follow instructions. Its interface is minimal and sleek which means users focus on what really matters: improving their typing skills.
The review also emphasizes that with the recommended 7-minute daily practice, people can actually notice a considerable improvement in both their typing speed and accuracy, in just two weeks' time. According to Boffin this is largely due to the expert-designed practices and next generation technologies it is based on. As the reviewer implies, in a program designed to teach users how to learn to type is essential to have straightforward and relevant activities to practice with. The EasyLearn™ and Adaptive Learning™ technologies make sure that learning will be appropriate for every user's individual level and ensure that the results are ultimately successful.
Other features the Boffin site positively welcomes are the progress tracking system and the availability for setting typing goals. These two features work in combination, allowing users to have a clear sense of progress and direction regarding the improvement of their typing skills, namely keyboard knowledge, speed, and accuracy. Last but not least, the reviewer says that by the end of the training the user will greatly benefit from the typing skills acquired as the software does a good job boosting work performance and productivity.
For more information on how Ultimate Typing™ can improve your typing speed and accuracy please visit the official website http://www.ultimatetyping.com.
About Ultimate Typing™
Ultimate Typing™ is an advanced typing tutor software that offers incomparably sophisticated typing strategies.
Ultimate Typing™ is based on the latest research and scientific developments regarding efficient typing. With as little as 7 minutes a day, aspiring fast typists can substantially improve their typing accuracy and speed.
With its user-friendly and expert-designed activities all users can improve their typing. Accurate typing is possible thanks to Ultimate Typing™. Plus, eReflect provides a money-back guarantee that cannot be matched.