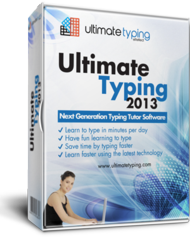 ...the review focuses on the key aspects of Ultimate Typing™ which make it so different from all other typing software products.
New York City, NY (PRWEB) January 14, 2013
The developers at eReflect depend on user feedback to make sure they are able to constantly refine their products. After the launch of their new typing tutorial software, eReflect's team was pleased to learn that a reviewer of Ultimate Typing™ software has published a detailed review on VocabularyBuilding.Org, revealing the considerable high efficiency of the recently released typing software. The reviewer tested the software and found that his already impressive words-per-minute typing score exponentially increased when he practiced with Ultimate Typing™.
As the software development team noted in their statement, the review focuses on the key aspects of Ultimate Typing™ which make it so different from all other typing software products. First, the reviewer mentions the wide range of features that cover all aspects of typing, from proper posture and hand placement to techniques and tips for better typing accuracy. Second, the review also mentions that during exercises there's an on-screen keyboard which shows each typing movement, which helps the user learn to avoid looking at the keyboard and losing valuable typing time.
Accuracy is the first feature of typing that the software focuses on. As the learner becomes proficient in typing accuracy, only then will the software provide more advanced, speed-boosting exercises for their ongoing training. The reviewer mentions that while other typing software programs tend to focus more on speed, this one pays particular attention to teaching learners how to accurately master all keyboard functions before working on their typing speed.
The other two aspects the review evaluates are the help and support provided, as well as the software's user-friendliness. According to the reviewer, anyone can become a typing master thanks to the interactive video tutorials available in Ultimate Typing. These tutorials make learning easy since each step is explained in detail, and very clearly, so that the learner can navigate through the lessons with confidence.
Lastly, the review mentions how user-friendly the software is, making it suitable for the whole family. The interface has a simplified yet functional "look and feel" and users can easily find their way through the menus. Added to that ease of use, the individual exercises also allow for personalized adjustment, so every user can easily improve their typing skills with training that's customized and relevant to them.
For more information on how Ultimate Typing™ can improve your typing speed and accuracy please visit the official website http://www.ultimatetyping.com.
About Ultimate Typing™
Ultimate Typing™ is an advanced typing tutor software that offers incomparably sophisticated typing strategies.
Ultimate Typing™ is based on the latest research and scientific developments regarding efficient typing. With as little as 7 minutes a day, aspiring fast typists can substantially improve their typing accuracy and speed.
With its user-friendly and expert-designed activities all users can improve their typing. Accurate typing is possible thanks to Ultimate Typing™. Plus, eReflect provides a money-back guarantee that cannot be matched.