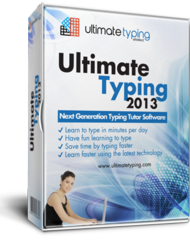 According to Ferreira, the great effectiveness of the software rests with its seamless combination of teaching and practicing aspects.
New York City, NY (PRWEB) January 14, 2013
Ultimate Typing™ software has been reviewed by soon-to-be-published author Leon Ferreira and it has been found to effectively improve typing speed and accuracy with as little as 7 minutes of practice per day. The review, published on the website Neurocube.co.za, emphasizes the impressive results the reviewer noticed with minimum effort and little time devoted on his part.
According to Ferreira, the great effectiveness of the software rests with its seamless combination of teaching and practicing aspects. The software provides step by step video tutorials for proper hand placement, posture, keyboard typing, and other typing instructions. As the reviewer notes, the video tutorials are precise, condensed, and easy to follow. But apart from the teaching aspect, the software allows for ample practicing with over 600 activities and exercises. This combination of high quality instructions and well-designed drills and activities practically ensure that learning will take place quickly.
Ferreira finds particularly beneficial the fact that the software package is all-inclusive. All the user needs to do is install Ultimate Typing™ and start practicing; no additional textbooks or practicing manuals are needed, and everything is included in the software package.
The reviewer seems particularly impressed by the progress tracking and goal setting features. According to Ferreira, these two tools proved to be of great importance as they keep the learner focused and engaged with the learning until the goal has been reached, which motivates them to set new, higher goals and continue working. The user confesses that his two-finger typing style, which he had thought was sufficient, was quickly turned into a professional typing style which was fast and accurate, after only five days of practice.
As the review clearly shows, Ferreira definitely enjoyed how much more relaxing and painless the typing experience has become for him. No more cramps and sore wrists; the software has instructed him about the correct and high-performance ergonomics of typing. Lastly, the reviewer concluded that learning typing correctly has allowed him to improve his typing with the least effort and time invested. By practicing with Ultimate Typing™ in his breaks he has been able to noticeably improve his speed and accuracy.
For more information on how Ultimate Typing™ can improve your typing speed and accuracy please visit the official website http://www.ultimatetyping.com.
About Ultimate Typing™
Ultimate Typing™ is an advanced typing tutor software that offers incomparably sophisticated typing strategies.
Ultimate Typing™ is based on the latest research and scientific developments regarding efficient typing. With as little as 7 minutes a day, aspiring fast typists can substantially improve their typing accuracy and speed.
With its user-friendly and expert-designed activities all users can improve their typing. Accurate typing is possible thanks to Ultimate Typing™. Plus, eReflect provides a money-back guarantee that cannot be matched.