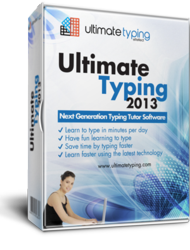 The review revolves around one central point: the software's well-structured exercises and how these help users become fast and accurate typists...
New York, NY (PRWEB) January 16, 2013
The website Online Bachelor Degrees Success featured a review of Ultimate Typing™ software and emphasizing that the expertly-designed lessons is key to why the software is so efficient in improving typing speed and accuracy with so little practice. The review revolves around one central point: the software's well-structured exercises and how these help users become fast and accurate typists, making them more productive and efficient with their typing tasks.
The review focuses on how the software is designed in such a way that allows learners to quickly and correctly learn the strategies and tricks of pro typists. With clear-cut video tutorials the learner can fully understand an exercise before practicing it. According to the reviewer, the exercises' difficulty increases gradually ensuring that all elementary skills are mastered before more advanced ones.
As the review mentions, by practicing with the strategically organized lessons, every user can improve their typing speed much faster than by using earlier, more conventional typing strategies. What's entirely different with Ultimate Typing™ is that the practice exercises are designed by experts and are primarily based on the latest scientific developments. To efficiently teach typing, the structure of the teaching must be logical and efficient, which is the case with Ultimate Typing™, the reviewer notes.
Ultimate Typing™ is very efficient due to how well-thought out the training is. The software offers over 500 exercises and activities so that all users, no matter their typing skill level, can find appropriate and relevant exercises. In addition to the abundance of exercises, the software package also includes a cutting-edge Adaptive Learning™ technology. After the user established their baseline goals, speed, and accuracy with some initial practice exercises, the software is able to provide customized activities and drills for the user. In this manner the learner focuses on their weaknesses and doesn't waste valuable time on too easy or incomprehensible drills. Everything is personalized and adjusted to each user's typing needs.
For more information on how Ultimate Typing™ can improve your typing speed and accuracy please visit the official website http://www.ultimatetyping.com.
About Ultimate Typing™
Ultimate Typing™ is an advanced typing tutor software that offers incomparably sophisticated typing strategies.
Ultimate Typing™ is based on the latest research and scientific developments regarding efficient typing. With as little as 7 minutes a day, aspiring fast typists can substantially improve their typing accuracy and speed.
With its user-friendly and expert-designed activities all users can improve their typing. Accurate typing is possible thanks to Ultimate Typing™. Plus, eReflect provides a money-back guarantee that cannot be matched.